View Page Gallery
Leadership
Equipping a new generation of leaders to shine
Don't let anyone look down on you because you are young, but set an example… in speech, in conduct, in love, in faith and in purity
1 Timothy 4:12
---
At Trinity School we want our pupils to be shining lights in their future, be that in their homes, communities or the workplace. We are passionate about equipping a new generation of authentic leaders who can bring positive change. We believe this will allow Trinity pupils to be creative, distinctive and innovative in our global society.
For this reason, leadership is an intrinsic part of our culture. We have traditional opportunities to lead which include the heads of school, the prefect team, the school council, sports captains, house captains and anti-bullying ambassadors. In every lesson, there is a class ambassador appointed whose role is to greet visitors, explain what the class is doing and read a prayer. This gives everyone a chance to have a go! We have pupils who do a sterling job leading some of the co-curricular activities, even enjoying external success in national competitions such as Lego League. At collective worship, pupils have the opportunity to read a passage from the bible or a prayer, practising their public speaking skills. Our service programme and sixth form coaching create further opportunities.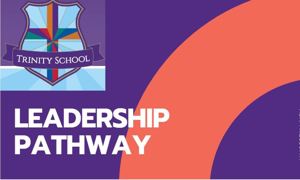 In 2019, we launched our pioneering Leadership Pathway programme. Identified by staff for their leadership potential, 32 pupils were selected for this unique programme. These pupils meet every Friday morning where they are trained by Mrs Gale, benefiting from her passion for leadership and experience. We focus on aspects of leadership such as team-building, setting a vision, personality profiling, leading change, communication, public speaking, problem-solving, empowering, teamwork and taking calculated risks. These all allow our leaders to be more competent, confident and emotionally intelligent.
We do this by incorporating the very best skills and ideas inspired by the world of sport, business, politics and education. In turn, these pupils get the opportunity to put what they have learnt into practice. They are assigned to Year 7 and 8 tutor groups for a year where they present leadership activities to our youngest pupils. This helps us to talent scout for the next generation. One leader after her first session in front of a year said 'I can't believe I did that! I was so scared, but I am so proud of myself that I did that' another leader said: 'I have learnt so much from the leadership course- it's been really useful and I also get the opportunity to put my skills into practice.'
Mrs Gale is incredibly impressed by how this team shines when they are thrown into the deep end! Their ability to think on their feet, apply what they have learnt and be excellent role models have been a privilege to witness.
Highlights thus far have included team-building days including a day out at Carroty Wood on a high-ropes course and a trip to the Church of England Education Leadership conference in Westminster in February. Our students were inspired being a part of an audience of 800 people including Headteachers, Diocese and Church leaders and student leaders. They got the opportunity to be an audience with the Archbishop of Canterbury, participating in practical workshops about Igniting Potential and the Climate Emergency, as well as listening to presentations about the heart of our educational purpose to be Call, Connected and Committed in educating for life in all its fullness.
What our Parents and Visitors Say
What an amazing ambassador for your school. She (student) showed us everything we needed to see and patiently waited whilst we participated in activities, she also explained the school's expectations of each and every student, showed my boys how her timetable worked and pointed out and explained all areas. She was fabulous!!
Prospective parent
---
we were most impressed by the enthusiasm of the two young ladies who conducted us around the school, explaining clearly the organisation in relation to the functions of the facilities. They are to be commended on the way they presented themselves and the school of which they are obviously so proud
Visitor
---
The facilities are of course fantastic but I was particularly impressed with the behaviour and confidence of the students who clearly loved the school they attended
Prospective parent
---
we are thrilled that X is seen as such a good ambassador for the school she loves!
Parent
---
EDUCATION FOR LIFE IN ALL ITS FULLNESS