Careers
Welcome to the Careers page at Trinity Sevenoaks. This is a one stop shop for support on preparing for work, training or more learning. The advice on this site was all relevant at the time of writing, and should be used in conjunction with any guidance students receive from their tutors or careers advisor.
The school's arrangements for managing the access of providers to pupils at the school for the purposes of giving them information about the provider's education or training offer is outlined in our Provider Access Policy
For careers information and guidance please contact Mrs Rayfield (Careers Leader) at careerstr@trinitysevenoaks.com
---
NEW! Virtual Learning Opportunities
Digital Skills Opportunities
BT and EE both have put digital skills at the centre of their new digital impact and sustainability strategy, to help improve the productivity and digital talent for individuals and small businesses across the country with partners such as Google Digital Garage and Small Business Britain. They also have a series of 'Work Ready' webinars that are particularly relevant for the 16-24 age group.
Cornerstone Employer Group
Cornerstone Employer group have created virtual tours of their offices, which has been a useful tool during pandemic. Companies include: BT, Ipswich Building Society, Ipswich Town Football Club, Morgan Sindall Group plc, Suffolk County Council.
Fledglink Learn Now
I'm really excited to share with you that Fledglink's Learn Now will be running a free careers timetable each week until the end of the summer term! They have designed the timetable to support your careers education with exciting live and on-demand sessions for students to access. Some of the sessions include:
Healthy You: a variety of mental and physical wellness sessions to kick-start a student's day the right way! Including positive mental health & dealing with stress workshops, plus fitness and dance classes!
Skills builder: live and on-demand sessions focusing on different skills to improve per day.
1:1 Career guidance: 1 to 1 sessions designed to provide students with the guidance they need. Helping to support Gatsby benchmark 8 around the need for personal guidance.
Other sessions include building your brand, inspiring stories with special guests and 1:1 CV clinic drop-ins.
CTM Pathway Webinars
CTM Pathway is an award winning Social Enterprise that is transforming employability training, support and opportunities for schools and students. We provide an award-winning programme to thousands of students throughout the UK, helping young people make informed decisions about their next step from leaving school. Often choices and opportunities are not clear enough for students, when in fact there are many amazing paths that are out there for each and every student.
They have a variety of webinars freely available in a variety of sectors. Click on the links below to watch:
Work Experience And How To Get It with BT
LinkedIN Masterclass with Grant Thornton
Careers In The Music Industry with Sony Music
STAR Interview Technique with PwC
Careers in Law with Sue Lenkowski
Creating a cover letter with IBM
Entry Level to Management Roles with Pret A Manager
Routes into an Organisation with Cancer Research
Apprenticeship Masterclass with the Co-op
Routes into the Homebuilding Sector with Berkeley Homes
Careers in a News Organisation with the FT
Strengths Profile with Cappfinity
Careers in Finance with Ed Broking
Pathway into Homebuilding Programme
Apprenticeships with Berkeley Homes
Get Involved?
In this section you will be able to see what careers events and competitions are currently running, so that you can get involved!
Video Design Opportunity
SideQuest is a videogame design community aimed at 13-19 year olds to help build digital skills. Learn to build a game in 7 days, weekly live streamed masterclasses and much more…..
Visit the website for more information: www.sidequest.org.uk
National Careers Week
We are excited to invite students and staff to take part in the launch of National Skills Days on 20th May - it's going to be great fun whilst building confidence and an important connection for everyone at this time .

It's a great chance for everyone to show they have skills - wherever they are.
What will I need to do?
-choose a skill
-create a 20 second video to show your skill
-Post your video with the #MySkills tag to @NCWSkillsDays on Twitter, Instagram or TikTok
See the poster below for more details!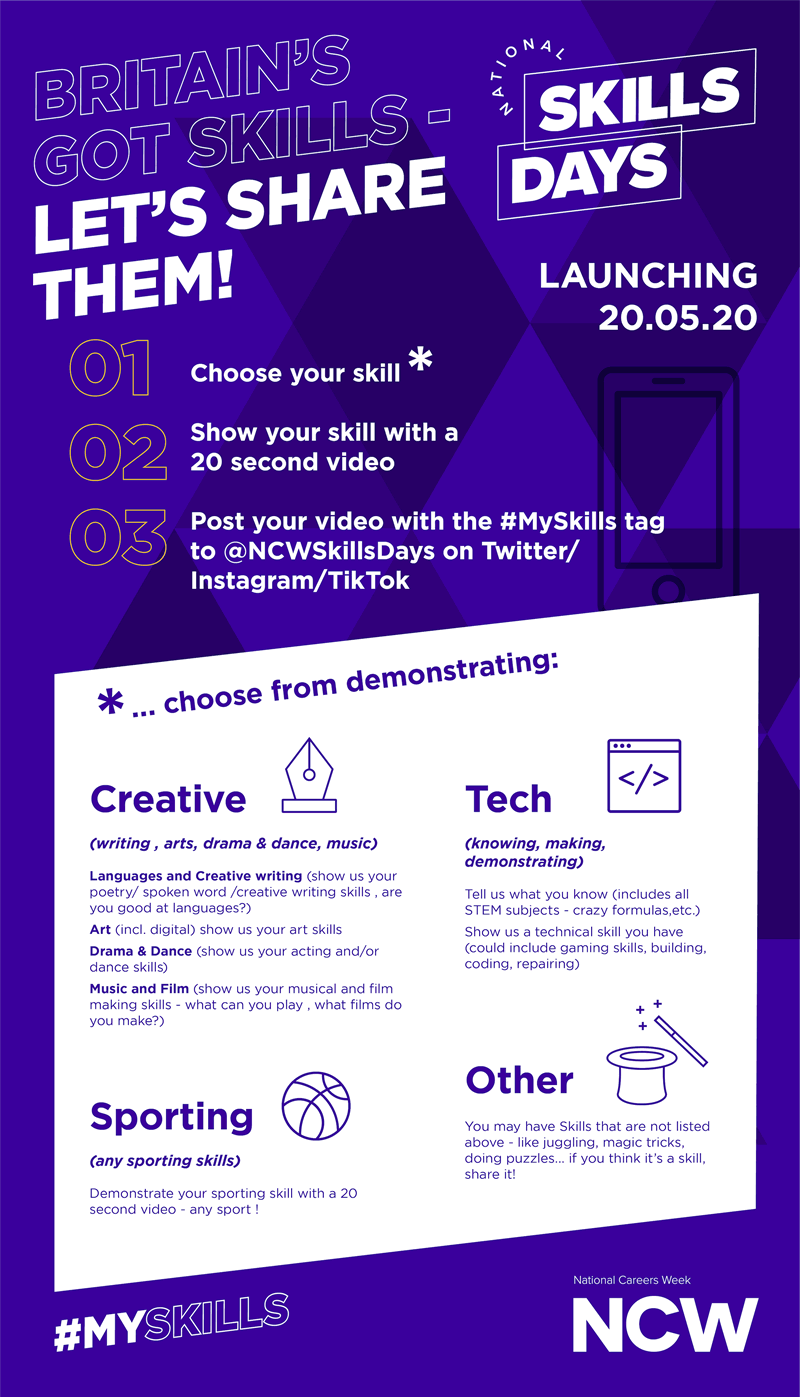 Sky Academy Studios Competition #keepconnected
We're all living and learning differently right now so it's important to #keepconnected. We want young people to create a video to tell us their lockdown story. It's a great way to share how they're feeling.
Be sure to get your entries in by Monday 29th of June for a chance to win a free filming kit for your school.
---
How does it work?
Students will create short videos (30 seconds - 2 minutes) bringing their ideas to life.
Using tech they can access at home, and the current lockdown as inspiration, students can tell their stories.
This provides a creative way to help them feel connected and stay positive during these challenging times.
Using creativity and communication their stories can be:
FACTUAL: News Report or Vlog
FICTIONAL: Creative stories
Click here for r more information about the Sky Competition
STEM Opportunity for Year 9 & 10 Students
We have a 3 day non-residential course running during the October half term 2020 where students will get to understand the Routes available for them into the STEM world.
Spending a day at Mid Kent College, University of Kent and the final day will be hosted by BAE Systems. Students will get a hands-on experience understanding the diverse routes available to them after studying their GCSEs– including apprenticeships and degree apprenticeships talks.
Once we have received applications we will be in contact via email address provided on the application form and then for students to secure their place they will need to return their consent form by the deadline date – we expect this course to be extremely popular so I suggest apply as soon as possible.
Please see the letter and booklet below for more information:
Careers Competition (All Years)
The Education Business Partnership in Kent are looking for students to:
-design a product, service or app that can solve or assist in the pandemic
-create a spoken word piece to express how you are feeling about the outbreak
-create a short film, music or piece of art focusing on the future after the pandemic
-create a new sports/fitness programme that you can perform any home
You can enter as an individual or as a family and their are lots of voucher prizes to be won!
For the details please visit: https://www.scribd.com/presentation/456513464/The-Challenge
For further information and an entry form please email info@ebpkent.co.uk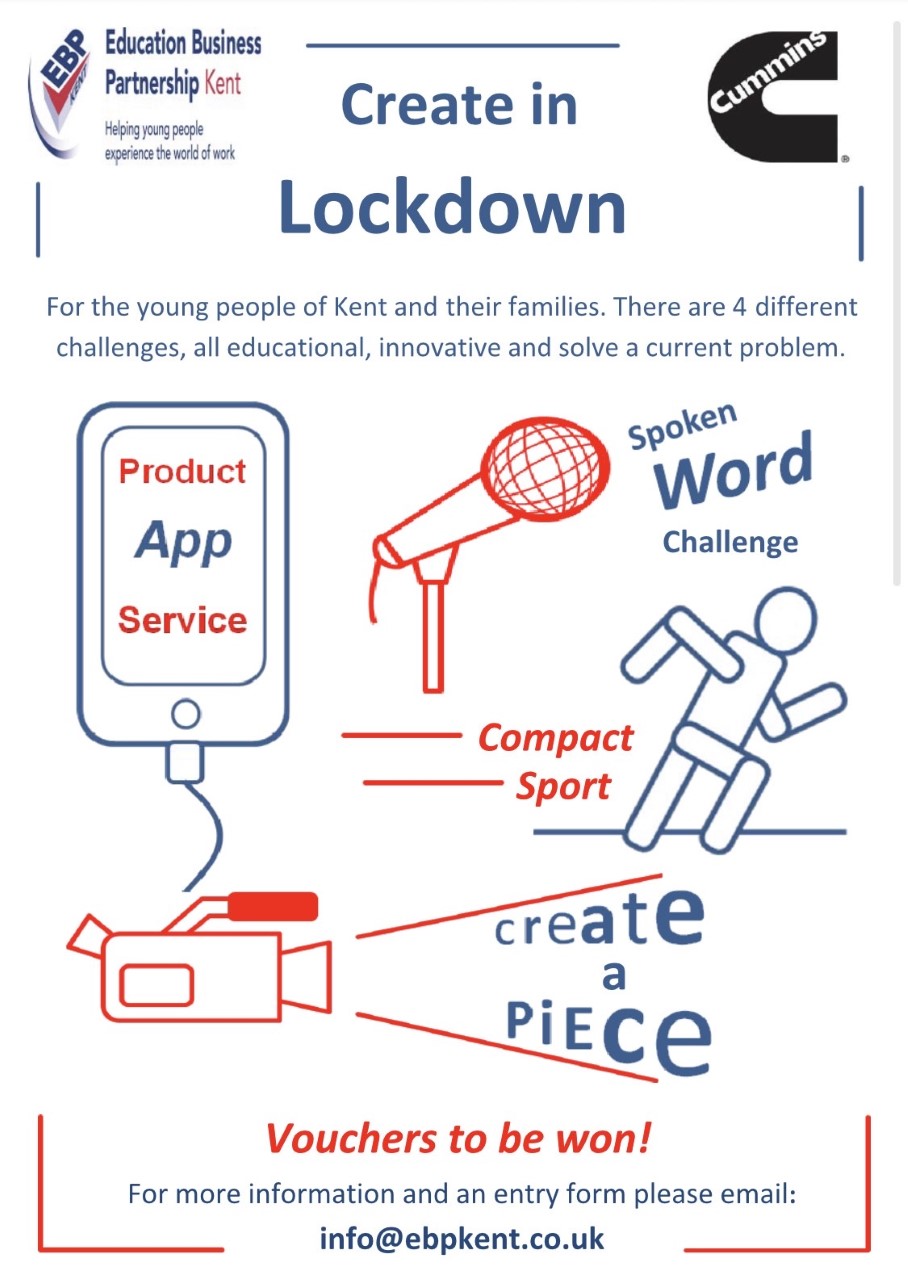 Key Stage 3
Key Stage 4
Updates and Information:
GCSE Results Day
GCSE Results Day 2020 date is Friday 27th August 2021 for England and Wales students
What are my options after year 11?
You may choose to:
Stay at School, go to a College or Sixth Form and study full time courses
Get a job and take a work related course alongside it such as an OCR National, BTEC, City and Guilds or other accredited course
Volunteer for 20 hours or more but will need to do some accredited learning alongside it, offered by the organisation or independent of it
Do an Apprenticeship or other accredited training course
The qualifications that you hold already, for example, how you do in your GCSEs at the end of Year 11 will have a large impact on what you can do, especially at which Level you can study or learn.
VIDEO: Your options after year 11 webinar by The Education People (Sept 2020)
Discover your skills & careers
Discover your skills and careers (DYSAC) is a tool to help you identify your:
interests
motivations
preferences
Understanding yourself can help you work out what careers you may enjoy working in. You can use this information to explore careers that interest you in more detail.
After you answer the questions, you'll see a list of categories that may interest you based on your answers. You can answer more questions to see more specific roles that may suit you.
The Skills Toolkit
Free courses to help you learn new skills or get a new job.
Learn about:
practical maths
computer essentials
personal growth and wellbeing
professional development
business and finance
digital design and marketing
computer science and coding
Information & advice for school leavers:
https://careermap.co.uk/careermag-students-teachers/
Virtual Careers Talks
Virtual careers talks for students from a range of sectors including business, arts, academia, media and more. Speakers will be sharing their own stories and expertise on a variety of subjects.
Please click on this link to watch the live careers talks:
Online Lectures (Free)
There is an opportunity to access free online lectures in a variety of subjects (covering a large number of our A Level subjects). Or you might like to learn more about a subject as a possible university course choice.
Calendar of Events
(TBC)

What type of job do I want?
Browse thousands of jobs and what you need to be able to do them! – UCAS Jobs section.
Apprenticeships
Apprentice Kent - https://www.apprenticekent.com/home
Kent Choices
Y11 login page - https://www.kentprospectus.co.uk/login/
Key Stage 5
Your Future Opportunities - Sixth Form students
NEWS
A Level results day will be Tuesday 24th August 2021.
As usual, keep your eye on the calendars at the bottom of the page for all of the University and apprenticeships/job events coming up.
Remote Opportunities- There is a variety of opportunities available including virtual University open days, Q&A's, taster days etc.
For more information click here
Calendar of Events
October
Thursday 15th October (6pm): Oxbridge UCAS application deadline
Thursday 29th October: Emerging Technologies (Virtual Reality) at PwC
November
Monday 2nd & Tuesday 3rd November: UCAS Futures in Maths, Engineering & Computing. This is an official personal statement workshop online dedicated to these subjects.
Wednesday 4th November (12.00-18.00): University & Apprenticeship Fair- over 80 universities, colleges and apprenticeship providers will be there. All year 12's will spend Wednesday afternoon attending this virtual fair.
Friday 13th & Saturday 14th November: UCAS Future in the Creative Arts. This is an official personal statement workshop online dedicated to creative arts subjects.
Monday 16th November at 4pm: Broadcast Engineering Apprenticeships (virtual event). The University is currently working with BBC, Sky, F1, BBC Studioworks, ITV and many other broadcast companies to attract students to their new Broadcast Engineering Apprenticeship which will start in September 2021.
Thursday 26th- Saturday 28th November: World Skills UK Live will be hosting spotlight talks on Careers, Apprenticeships and Excellence (this is a free online event).
December
Early December: Oxbridge interviews
January
Friday 15th January (6pm): Main UCAS application deadline
May
Wednesday 5th May: If you receive all your uni/college decisions by 31 March, you must reply to any offers by this date
July
Thursday 1st July: Clearing opens
NEW! Futures 12 monthe placement scheme (Updated 15/10/20)
The Futures Placement scheme offers you an invaluable opportunity to work with a world-leading company for 12-months, broadening your horizons and giving you a head start in your career. You'll be deployed onto a challenging work placement, where you'll support and learn from experienced professionals across IBM. At the end of your placement, it's in your hands. IBM offer both Business and Technical Placements, with both taking place over a year!
You will benefit from a salary starting from £18,000.
To view the placements click here
NEW! School Leavers Apprenticeships (Updated 26/10/20)
PwC offer a variety of programmes for students and graduates to start creating their careers. They focus on your skills and passions, not just your degree and education. With there diverse range of businesses and variety of work you'll easily find your perfect role.
Click here for more information
NEW! Careers at Mi5 (Updated 15/10/20)
We recognise that university isn't for everyone. We need people who are fresh out of school, eager to get started and want to do something interesting and exciting. Every single person, role, and team in our organisation plays its part in helping us keep the country safe. We offer a range of opportunities from busy administrative roles to technical training programmes. Whether you are supporting one of our investigative teams, administrating in human resources or starting out on our Technical Apprenticeship Scheme, you will be part of a supportive team with the opportunity to develop and learn about the exciting work of MI5.
To view the roles and apprenticehip opportunities click here
'Academoney' (free) financial education course (Updated 15/10/20)
The Open University has joined forces with MoneySavingExpert (MSE) to produce this new free course to give you the skills and knowledge to master your finances. The course was written by The OU, with MSE providing support and guidance.
My Personal Finance Skills Programme
My Personal Finance Skills Programme is a free financial education for all from the Chartered Insurance Institute. The Chartered Insurance Institute is committed to supporting students with their free online financial education. Key points:
 Targeted at KS4-5 (14-18 years old).
 Ideal for students in year 11 & 13
 4 x 1 hour on demand free financial education sessions.
 Student worksheets included.
 Themes include: staying safe from scams, moving on from school, my future finances and making decisions and risk.
Please feel free to visit the Personal Finance Skills website: https://mypersonalfinanceskills.org
PWC'c Virtual Classroom
We're really excited to launch our new Virtual Classroom - a programme open to all students between Years 10 and 13. The programme combines both live and pre-recorded sessions which will provide students with an insight into PwC and an opportunity to develop their employability skills. They'll also have the chance to engage with a range of PwC ambassadors through the interactive live sessions, whilst enabling the flexibility to watch and listen to the recorded sessions at a time best suited to them each week.
We recognise that they'll continue to have school or college commitments during the four-week period so we've made the virtual programme as flexible as possible.
Check our website for the times and dates for each of the live sessions and details of how to sign up. We'll also be running a session specifically for parents, carers and teachers.
You can find out more about the session and how to sign up via the 'sign up' button below.
Weekly University Guidance Webinars - These take place every Tueaday.
Click here to access the webinars
Pathway CTM
Pathway CTM is an award winning Social Enterprise that is transforming employability training, support and opportunities for schools and students. They provide an award-winning programme to thousands of students throughout the UK, helping young people make informed decisions about their next step from leaving school.
Click Here for Pathway CTM Events
University Taster Days
University Taster Day website lists many taster day opportunities as well as workshops and higher education fair information. You can put your career ideas into a search to narrow down all the opportunities they list. Many of these will be subject to COVID-19 restrictions but do look for the events later on in the summer.
Volunteering Opportunities
Please don't waste this time, if you are looking for something great to add to your CV or UCAS Personal Statement then there are plenty of opportunities to be volunteering locally within the community. This could be anything from picking up prescriptions to walking someone's dog, it will show you care and you will feel great for it.
Virtual Open Days
A virtual open day enables you to learn more about a university, the course modules and the opportunities available. You'll learn about the course you've applied to or thinking of applying to, all the development opportunities that are provided at the university and how you can build your professional skills. A virtual open day will also enable you to meet the academic team and ask any questions you have about the course requirements and modules.
More Information about Virtual Open Days
Thinking about applying to Higher Education?
Online Lectures (Free)
There is an opportunity to access free online lectures in a variety of subjects (covering a large number of our A Level subjects). Or you might like to learn more about a subject as a possible university course choice.
Oxbridge Video Resources
They are not just for Oxford or Cambridge but for other Universities too as they all have interviews and a lot have assessment as part of the process. The full list of courses are available here- (OxbridgePrepCourses_List.pdf). Email Mr Shaw for more information (rshaw@trinintysevenoaks.com).
University Taster Days
University Taster Day website lists many taster day opportunities as well as workshops and higher education fair information. You can put your career ideas into a search to narrow down all the opportunities they list. Many of these will be subject to COVID-19 restrictions but do look for the events later on in the summer.
Pearson Business School Degree Apprenticeships
Pearson will be launching Degree Apprenticeship webinars very soon! These webinars will give you an overview of how Degree Apprenticeships work and a chance to ask any questions you may have!
Apply for a Degree Apprenticeship
InsideSherpa are doing a virtual work experience programme that focuses on top companies teaching skills they need before they hire.
Capgemini have created mock digital interviews for students, giving students written feedback or telephone feedback.
Sign up for a mock digital interview
Careers Hub-Home Learning Careers Projects
Latest Apprenticeship news - details
---
Open Day calendars
https://www.opendays.com/calendar/
https://www.thecompleteuniversityguide.co.uk/open-days
UCAS Calendar and Events
UCAS Calendar and other events - https://www.ucas.com/ucas/events/find
What type of job do I want? Browse thousands of jobs and what you need to be able to do them! – UCAS Jobs section.
Apprenticeships
Apprentice Kent - https://www.apprenticekent.com/home
KPMG's Audit Apprenticeship and KPMG360 Digital Software Engineering Degree Apprenticeship: They are available for students looking to get a head start in their career after leaving school or college. Starting in autumn 2020, those joining will receive the training, qualifications and experience they need to thrive in the world of business and the tools to support them in their transition into the world of work.
Kent Choices
Y11 login page - https://www.kentprospectus.co.uk/login/
PiXL Futures
Work Experience
​Virtual Work Experience Opportunities
InvestIN Education
We are delighted to announce our biggest ever schedule of work experience programmes for the autumn term, which your students can register for now.

On our programmes, students work alongside top industry executives to gain a 360-degree experience of some of the world's most competitive and desirable careers.

All autumn term programmes will be delivered 'Live Online': immersive work experience with successful professionals in a live, interactive environment; from the comfort of your own home.

For Ages 15 to 18:
Weekend Programmes in all 20 industries (up to 2 days each)
Autumn Internships in 9 industries (5 days during half term)

For Ages 12 to 14:
Weekend Programmes in 8 industries (1 day each)
Virtual Work Experience from InsideSherpa
Learn from top companies and set yourself apart. InsideSherpa are offering students the opportunity to engage in virtual work experience programs with top companies teaching students the skills they hire for BEFORE they.
Click here for more information
Barclays Life Skills Virtual Work Experience
Barclays Life Skills is giving you a unique opportunity to take part in a Virtual Work Experience in a company that you might not normally get access to while highlighting the essential skills you might need. You'll get to see the inner workings of Freeformers, a 'digital transformation' agency, and actively work with different departments on one exciting project, helping them solve problems and complete real-life tasks.
As part of the experience you'll also see lots of tips as well as links through to other LifeSkills content. These are designed to help you learn how best to deal with situations you may come across in the workplace. By clicking on the links you'll get the most out of your Virtual Work Experience and learn more about the vital skills you'll need in the workplace.
Sign up for Virtual Work Experience Here!
When do I do work experience?
Year 10: TBC 2021
You will need to complete the following document if you are finding your own placement:
Year 12: Term 5/6 2021
You will need to complete the following documents:
Year 12 Self-Placement FormYear 12 Student consent form
WHY SHOULD I DO WORK EXPERIENCE?
The main objectives of work experience are:
To allow students to understand how commerce and industry operate

To help students to see the relevance of school subjects to the world of work

To help students gain greater self-confidence and maturity

To enable students to find placements that are related to the courses they are studying and, hopefully, increasing their motivation

To allow them to prepare for their personal statement for their UCAS form for university applications / CV for the workplace
DO I HAVE TO DO IT?
There are many activities and experiences that a student can engage in to make him or her a more 'rounded' applicant e.g. extra-curricular activities, clubs, sports, volunteering, gap year plans - all very important strings to a student's bow. However, relevant work experience is increasingly viewed as an essential part of any good application for higher education and the world of work. For candidates equally good on paper applying for courses / jobs, it could well be the work experience which tips the balance in favour of one candidate over the other. This is the case more than ever given the greater competition for places in Higher Education and for the job market. Indeed, more and more universities are offering work experience years as part of Higher Education courses and many graduates owe their jobs to such placements. Work Experience matters!
Students are encouraged to find their own placements and the school will give them support and guidance in order to do so. There are various sources of help:
Personal contacts - family / friends / neighbours / teachers

Yellow Pages (www.yell.com). This has a search facility by area to home in on categories of employers
Students should be prepared to telephone prospective placements

Placements need not be home-based if suitable accommodation can be arranged in another part of the country

Students are advised to make multiple requests for work experience as demand for placements can be heavy and early application is necessary. Be pro-active – repeatedly contact employers - it will be worth it!
WHAT IF I DON'T KNOW YET WHAT I WANT TO DO IN LIFE?
Students may have a very clear / vague or no idea at all of the area of further study / work they may wish to go into so this will affect what – and when - they apply for work experience. We hope that students will apply as early as possible and we would ask for parental support and encouragement in this. If a student knows the area they wish to pursue further, then our advice is to try and find work experience as soon as possible.
IS THE PLACEMENT SUITABLE?
Ideally, the placement should fit in with a definite career or higher education plan. Please note that parents and students must ensure that they are happy with the working conditions of the placement, ensuring they have Employer Liability Insurance and Health & Safety procedures in place.
WHAT NEXT?
Research various companies in the local area to see if they offer work experience. Use the letter template the draft a letter that can be sent or emailed to staff at the company. If they agree to the work experience, then fill in the student self-placement form.
Work Experience Letter Template
What is work experience? What should I expect?
Frequently asked questions about work experience
Labour Market Information
Apprenticeships
SEND
In this section you will find additional careers resources to support SEND students.
Talentino Summer Newsletter
This is the first edition of a newsletter for SEND developed by Talentino. It contains predictions around the skills employers will be looking for in the future and some interesting articles around all things SEND.
Qualifications & Training
Traineeships
What is a Traineeship?
A traineeship is an education and training programme. It is designed for people aged 16-24 years old with an education, health and care (EHC) plan - get ready for an apprenticeship or job if they don't have the appropriate skills or experience.
It incorporates work experience, preparing young people for their future careers by helping them to become 'work ready'.
A traineeship has three core elements:
- A high-quality work experience placement with an employer.
- Work preparation training, provided by the training organisation.
- English and maths support, if required, provided by the training organisation.
Traineeships last anything up to a maximum of 6 months with the content tailored to the needs of the business and the individual.
Who can apply?
You can apply for a traineeship if you're:
eligible to work in England
have little or no work experience but are motivated to work
aged 16 to 24 - or 25 with an EHC plan - and qualified below level 3
Where can I find a traineeship?
-by visiting www.gov.uk/find-traineeship
-by asking your local college or training provider if they have opportunities
bby speaking to your school careers advisers if you're 16 to 18 years old
Personal Statements, CV'S & Interviews
Personal Statement
A personal statement is your chance to describe your ambitions, skills, and experience to university and college admissions staff.
Some useful points are:
To read the course descriptions. Use this to identify the qualities, skills, and experience it requires.
Explain why you're applying to study the course; include your ambitions, what interests you about the subject, the course and the place you wish to study.
Think about what makes you suitable; relevant experience, skills, or achievements you've gained from education, work, or other activities.
Include any clubs, employment, volunterring or experience you have done. This could be creative, sporting, Duke of Edinburgh etc. Remember to tell them what skills you have developed through them.
If you took part in a higher education taster course, placement, or summer school include it.
Personal-Statement-Worksheet.pdf
Personal-Statement-Mindmap.pdf
Curriculum Vitae (CV)
A CV is brief account of a person's education, qualifications, and previous experience, typically sent with a job application.
How to write a killer CV
Your curriculum Vitae (CV) has five seconds to impress the reader and convince them you are right for the position.
Unless you are the only person in the world with your skills or have an excellent network to tap into then you are going to have competition when it comes to securing contract work. And you will only get that work by securing yourself an interview by convincing someone on paper that you can do the work.
Fact: recruiters won't read past the first page. In fact, recruiters won't even scroll down your first page unless they are truly impressed by what you have written in your first few lines.
Why do CV's end up in the bin?
Anything longer than 4 pages. People cannot be bothered to read.

No profile or list of skills on the front page. Don't want to search for them.

CV is a big essay with sentences. No bullet points. Too much hassle to read.

Profile and skills on front page does not really match requirement.

What makes the employer want to read more?
Profile and skills on front page exactly match requirements.

At least the last 6-12 months experience are closely related to the skills

required.

The candidate has a good academic background.

A CV is designed to get you an interview. Nothing else. It is a marketing document that markets you as a person. To write a good CV you need to get your trumpet out and start blowing it!

A high impact targeted CV creates a high impact on the front page with the content tailored directly to target the position you are after.
What NOT to put on the front page
You only have one sheet of A4 to make that 10 second impact. Try not to put the following on the front page:
A list of schools you attended with examinations, grades, addresses. These are important but you need to list the skills they are after.

A list of hobbies. Tell them what you've achieved by applying the skills you have.

Your work history. Again useful, but what skills did you gain from being at the companies? How did the company benefit from you being there?
What should be on the front page?
There are essentially 4 sections to the front page of a high impact CV:
Your name, address, contact details. A surprising amount of candidates forget to include these details! Don't be one of them.

A profile to outline yourself. Try and keep this professional and to the point.

A list of your skills. 8-10 bullet points should suffice. Make sure your highlighted skills fall in line with the job specification, highlight in bold the key words that match the job spec. Try and keep your skill set broad to show how diverse you are and don't be afraid to include personal attributes as a skill. (For example; highly organised).

A bulleted list of your achievements, between 3 -5 is ideal. Detail them but be careful not to waffle! No more than 40 words per point. There is an art to writing achievements, be careful not to simply write; developed an organisational process with paperwork.

You must always try to highlight the benefits that you attained for the employer at the time. For example; Developed an organisational process with paperwork that improved the efficiency of the process and saved staff at least an hour a day.
Helpful websites
http://www.parentalguidance.org.uk/applications-interviews/cv-school-leaver-template (useful for parents to guide students)
https://www.fish4.co.uk/career-advice/younger-jobseekers-cv-template-for-school-leavers/ https://www.reed.co.uk/cvbuilder
https://www.myperfectcv.co.uk/
https://www.myworldofwork.co.uk/getting-job/building-cv
Interview
Heading to your first interview
Your first interview is a big deal, you are venturing into the world of work but it can also be rather scary. An interview is all about showing your potential employer that you are a perfect fit for the role and that you are hardworking and trustworthy.
Stop and think
What will happen at my interview?
What should I wear?
What questions will I be asked?
How will the interviewer decide who to give the job to?
Job interviews are useful ways for companies to find the right person to work for them. Due to this, you will most likely discuss different aspects of the job, be asked questions about your qualifications, skills and any work experience that you may have.
Common problems
Being overly anxious

Being too laid back and unprepared

Not giving relevant or concise answers

Lack of research on the job or the company

Not speaking clearly

Not making eye contact with the interviewer

It is easy to overcome and avoid these issues, just spend some time thinking about and preparing for your interview.

Planning for an interview

As soon as you are offered the interview, you should start planning. There are some key areas of interview preparation that you should include:
• Interview arrangements - (make sure to check where and when the interview is being held)
Paperwork - print off a copy of your job application/CV and any other paperwork that the interviewer may need

Reviewing your job application - think of the questions that they might ask about your skills, qualifications, work experience and interests

Travel plans - look into train times and bus times if necessary

Finding out about the job - research the role that you have applied for

Researching the company - if you don't know much about the company it

can make you seem disinterested and poorly informed

Organise what to wear - make sure that it is appropriate for the company

Interview types

One-to-one interviews - are the most common type of interviews. You meet with the interviewer face to face and discuss your job application and suitability for the job.
Informal interviews - require some special care as it is easy to forget that you are being interviewed. Make sure not to divulge more information than you intend, especially about your home and social life.
Panel interviews - are where there is more than one interviewer. Quite often each Interviewer will have a different role and may ask you questions depending on their job.
Telephone interviews - are used to screen a larger group of job applicants. Asking preliminary questions allows the interviewer time to decide who to invite for a face to face interview.
Group interviews - often require you to work together with other candidates under a time pressure. This is to show how quickly you can come up with ideas and solutions.
How to make a good first impression?
If you make a poor first impression, you have very little time to change the interviewer's mind. However, if you make a good first impression, this creates a positive framework for the remainder of the interview. When you are trying to make a good first impression, there are some key factors that you should account for:
Arriving in good time - arrive ten minutes early so that you can gather your thoughts, relax and feel in control

Facial expressions - make sure to smile and look engaged

How you stand/walk - don't slouch or hunch over as this looks unprofessional and makes you seem disengaged

What you are wearing - make sure that it is appropriate for the type of interview, as well as for the company

Tone of voice - sound enthusiastic in the conversation, if you sound or look bored then that is what you will be remembered for

How you shake hands - a firm handshake always gives a great first impression
Careers-page-What-not-to-say-at-an-interview.pdf
Mock Interviews - What Employees Say
2019 Careers Interviews feedback
---
"Thanks for getting in touch. It was a great experience for me too and was very happy to help. The candidates we interviewed were all very impressive and had a huge amount to offer."
---
"I really enjoyed meeting the students they were all a credit to the school.I would very much like to be involved in the early morning group sessions I look forward to hearing more."
---
"We are always happy as firm to send someone along if you would like careers advice about accounting opportunities.
I did leave my email address with X who I saw as he seemed interested in accountancy. If he would like any help writing CV's / tailoring covering letters I would be happy to assist him".
---
"Many thanks your kind email. I really enjoyed the interviews and was very impressed by each student whether it was in their appearance, subject knowledge or career aspirations.
I spoke with the Head of Sixth Form about assisting with CV preparations or other ways of preparing students for the outside world so."
---
"I thoroughly enjoyed helping at the interviews on Friday and would be delighted to help further with the group sessions. Please do let me know how I can help".
---
"I wanted to say how proud you must be of the students – I only saw 6 of them but they were incredibly well mannered, engaged and engaging, a real credit to you and the school".
---
"I was so pleased to hear that the mock interviews were a positive experience. The students I met were all a credit to Trinity: they were well prepared, articulate and able to think on their feet and I enjoyed meeting them."
---
"I found the students very engaging and I admire your staff for arranging such opportunity for them.
Happy to help with further events".
---
"Thanks for getting in touch. It was a great experience for me too and was very happy to help. The candidates we interviewed were all very impressive and had a huge amount to offer.
Very happy to support a careers session."
---
"It was a pleasure to engage with some of the students this morning. I am glad they found it of benefit. I would be happy to share some of my career experience in the group programme you are developing."
---
"It was an absolute pleasure to help out this morning. The students were amazing, and I was so impressed by their confidence and maturity. I would be really happy to help with the careers sessions. Once again thank you for the experience and many congratulations to the students - I would have employed them all."
---
Resources for parents
Careers Information for Parents
As a parent, you are incredibly influential when it comes to the decisions your child makes in all areas of their lives and that is especially true when it comes to their education and careers. We know that the choices, which are open to your child today, may be very different from when you were in their position and you may feel as if you're unsure about what advice to offer.
We want to try and make it as easy as possible for you to talk to your child about their options confidently and know that the information you have is as accurate and as up to date as possible.
A Parents Guide to Career Guidance
Helping your child begin their career journey
What are the options for Post-16 Education?
There are a range of options available for continuing to study, Post 16. Your son/daughter will need to apply for either A Levels, or a Level 3 course of study. Most post-16 education establishments will require them to achieve a minimum of 5 GCSEs at Band 4 (some courses of study will have further requirements).
Post 16 Information Evening hosted by The Education People (Sept 2020)
What do the different levels of study mean?
Confused about study options and levels?
Level 1 – GCSEs at grade D and below/band 4 and below
Level 2 – 5 or more GCSEs at grade C and above/band 5 and above
Level 3 – A Levels, AS Levels, BTEC Level 3
For more information of the full range of qualifications and their levels visit the National Careers Service.
Choosing what to study
This takes careful consideration and research. Your son/daughter will need to consider the subjects they are strong in, that keep their interest and that they enjoy. There is more information about subject related careers on the curriculum section of the school website.
There are plenty of sources of help available for their research:
Post-16 Schools and Colleges
There are a number of local schools and colleges which will offer a wide range of courses and provision such as A Levels, Apprenticeships and work-related (vocational) studies. Your son/daughter can find prospectuses for many of the schools/colleges online. They can look at their websites for further details on what they offer, and for details of their open days and application process.
Traineeships and Apprenticeships
A Traineeship is an introduction-level programme that combines a work placement with training, it helps to prepare young people for the world of work and supports with English and Mathematics if required.
Apprenticeships are available at Intermediate, Advanced and Higher/Degree levels, and are available in a wide range of employment sectors. The length of time that it takes to complete is dependent on the level and occupation. All Apprenticeships are real jobs so young people on the programme can earn a salary.
All Apprenticeship opportunities must be advertised on the National Apprenticeships Website. Your son/daughter must be registered on this site to apply. They are allowed to start an Apprenticeship once they have reached the compulsory education leaving date, after the last Friday in June.
Apprenticeships Parent Pack (October 2020)
More information about Apprenticeships can be found using the links below.
What is an Apprenticeship?
National Apprenticeships Website
The Apprenticeship Guide
Interserve Learning and Employment
T Levels
What are the Post 18 Further Education options?
T Levels are a brand-new qualification choice that will follow GCSEs and give students a head start towards the career they want. They will suit students who wish to start working towards a skilled occupation, prefer a practical approach to learning and want a predominantly classroom-based course.
University
Many students will consider University as a natural progression from their level 3 studies, more information can be found on:
Complete University Guide
UCAS
Whatun
Which? University
Higher/Degree Apprenticeship
This is an alternative to University. Higher Level Apprenticeships are advertised on the National Apprenticeships Website.
Where can I look for Careers Information Advice & Guidance?
National Careers Week
Follow this link for more information regarding how to obtain a copy of National Careers Week's free 12 page 'A Guide for Parents: Steering your teenager toward a job and career': http://win-that-job.com/parents-guide
Information from the National Careers Service
Follow the link below for parental guidance from the National Careers Service.
NCS Resources for Parents
Advice and Guidance from the Careers Writers Association
Follow the link below for parental guidance from the Careers Writers Association, with invaluable support for parents trying to guide their son/daughter.
http://www.parentalguidance.org.uk/
What other areas can I support with?
CV Writing
Advice and guidance on supporting your son/daughter with writing a CV/cover letter can be found below.
Example CVs (Target Jobs)
How to write a CV (Prospects)
How to write a CV (Reed)
Your CV (Help4Teens)
Interview Techniques and Tips
Advice and guidance on supporting your son/daughter with their interview techniques can be found below.
Interview Advice (National Careers Service)
Interview Techniques (Target Jobs)
Interview Techniques (Reed)
Interview Tips (Prospects)
STEM
What is STEM?
STEM is a curriculum based on the idea of educating students in four specific disciplines — science, technology, engineering and mathematics — in an interdisciplinary and applied approach. Rather than teach the four disciplines as separate and discrete subjects, STEM integrates them into a cohesive learning paradigm based on real-world applications.
STEM Opportunities
BAE Systems - Remote Learning launched
BAE Systems are passionate about promoting STEM and also understand the difficulties faced by many families at the moment, and the importance of home learning. Working with our engineers and partners, BAE Systems developed a range of learning resources to help you teach your children or pupils whilst they're at home. As well as brand new STEM home learning activities to complete, there is a UK Sport Competition (four age categories from 5 – 18 years) with fantastic prizes to be won, plus many more interesting links, engineering quizzes and career videos.
Useful Links
| | |
| --- | --- |
| | A free website although you are encouraged to create a log in. This includes the ability to search career pathways and find out what employers are looking for. |
| | The government specialist service for young people to get impartial Careers Advice. |
| | A free to access site suitable for Sixth Formers. It includes mini psychometric quizzes, information about careers' events nationally and frequently updated spotlights on specific career paths. |
| | Another useful free website. It is packed full of short films about a variety of actual jobs by people who are doing them. |
| | A free site. This has masses of short films embedded in it where all kinds of people talk about a wide variety of areas of work. |
| | Apprenticeships is the government's initiative. It is designed to inform and inspire young people to consider apprenticeships as a credible route to a rewarding career. |
| | A free to use site asks users to register but seems to be a user-friendly source of starter jobs, in particular in the financial sector. |
| | A free website that is good for students in KS3. It allows students to explore potential careers linked to option choices. |
| | Career opportunities in the sporting and health/fitness worlds. |
| | Career opportunities in the Creative Communications Industry. |
| | Information about careers in the medical profession. |
| | A useful website looking at various careers including the financial sector. |
| | Compare Universities, with the largest student city guide list, one of the largest accepted-only personal statement reference lists, over 150 university advice information articles and over 50,000 video views from our resident student. |
| | An excellent free site which includes lots of relevant information about alternative pathways for A Level students, as well as live job and apprenticeship opportunities. |
| | A useful and free site. It has comprehensive guidance and quizzes as well as a dedicated parents' section. |
| | Inspiring Futures specialises in supporting young people to make informed career and education choices. Website links to a Futurewise programme (not free) that helps individuals to choose potential careers via questionnaires and assessments. |
| | A free website that needs a login set up. Linked to many national and local brands and employers it offers routes in to competitions and events that may lead to internships or other ways to link with potential future employers. |
| | More information about apprenticeships, including a directory of regional training and apprenticeships providers. |
| | A free to access site will involve a sign up, but allows younger students to explore careers in relation to location and related jobs. |
| | A free website that combines live job and apprenticeship vacancies with general careers' information. |
| | A useful portal for Y11 and Sixth Form to gain updates of national apprenticeship vacancies. |
| | CV-Library is a UK job board. It is the third-largest employment website in the UK. The job board hosts the UK's largest CV database of over 12 million CVs. CV-Library is one of the top 500 most visited websites in the UK allowing employers to search for specific individuals with certain skill sets. |