Curriculum Intent
Introduction
At Trinity our curriculum is shaped by values of the school's founders and the school ethos so that all the young people in our care realise their inherent value, regardless of background, belief or ability. Through our curriculum students learn that life is an amazing gift to be treasured and enjoyed. Our curriculum allows students to learn, to be curious, to think, try, create, learn and play. Through this exploration they find their place in the world.
'I have come that they may have life, and have it to the full.' John 10:10
Vision: A broad and challenging curriculum
We believe that every young person is loved and valuable to God, and that He has given each one unique gifts and talents. Our vision is that every student will fulfil their God-given potential, ready to serve others and equipped to be confident leaders in society. The curriculum we offer at Trinity school is broad and balanced and will allow all students to progress and fulfil their potential, whether that be attending the best universities to study the most competitive courses, or more vocational routes. Our curriculum is tailored to meet a wide range of needs and abilities and aims to develop students in seven areas.
Academic: Academic wellbeing involves achieving one's academic potential. To do this, students need to learn strategies and establish disciplines and habits that will help them to flourish in their studies without detriment to their health.
Physical: Physical energy is the fundamental source of fuel… and lies at the heart of alertness and vitality but affects our ability to manage our emotions, sustain our concentration, think creatively, and even maintain our commitment to whatever mission we are on. (Loehr and Schwartz, 2009)
Emotional: Emotional health is about how we think and feel. It is about our sense of wellbeing, our ability to cope with life events.
Spiritual: Spiritual health is a sense of internal wellbeing and how you connect with something greater than yourself- whether that's a higher power, nature, music, art or humanity as a whole.
Financial: Financial wellbeing really matters because of its potential impact on other areas of our lives.
Vocational: Vocational wellness is the ability to achieve personal satisfaction and fulfilment from our work, maintain balance in our lives and make a positive impact within the organisations where we work and the communities where we live.
Relational: Everything significant starts with relationships. At the end of the day, your faith, your family, your work and your leadership are all based on how you relate. Your life is motivated by love for others, being part of a family, a desire for intimacy and vulnerability, choosing to work on a great team, and creating a product or service that helps others. 'We are happiest when we know our lives revolve around people.' (Townsend, 2019).
The school's ethos, the 'Trinity Way', is established through the whole curriculum. The five pillars of Truth, Excellence, Love, Leadership and Service reinforce the school's vision. At its core is the academic curriculum which is organised into discrete academic subjects because each provides a well-constructed and articulated body of knowledge and skills around which to plan effective teaching and learning, taught by subject experts. Our aim is that all students achieve their academic potential. Attaining strong exam outcomes gives students a wider choice of options later. When students achieve academically, it unlocks doors of opportunity, which could otherwise remain closed. At Trinity we give all our students access to a broad curriculum of traditional subjects which leads to strong intellectual growth and the acquisition of important subject and disciplinary knowledge.
Religious Education is a core subject at Trinity and given significant curriculum time from Year 7 to Year 11. Students acquire a deep understanding of Christianity, biblical literacy, church tradition and theology. Understanding of Christianity is taught alongside other world faiths in Key Stage 3, with a specific focus on Buddhism at Key Stage 4. Through Religious Education, students are taught to understand and evaluate beliefs, how they shape individuals and communities.
Personal Social and Health Education, Relationship and Sex Education, Citizenship and SMSC is delivered through our Trinity 'LifeBites' programme, which is delivered across subject areas and through regular form time activities. We have allocated the content to best reflect subject expertise. All students participate in Core PE at Trinity, gaining skills and knowledge which support healthy lifestyles whilst at school and beyond.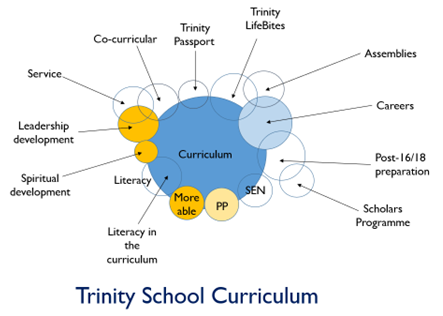 The academic curriculum is at the core of the school's wider framework which ensures academic progress occurs alongside increasing the confidence and resilience of our young people.
To further reinforce the importance of developing the wider person, all students participate in the following curriculum programmes within the school day:
Co-curricular afternoon: All students take part weekly in the co-curricular programme which gives access to a wide range of opportunities beyond the taught curriculum. The co-curricular programme facilitates and promotes the growth of a range of soft skills, which are critical for students if they are to fulfil their God given potential.

Tutor time runs four days per week at the start of the day. Tutor time enables students to be known- it allows tutors to build a good working relationship with students. In addition, it provides an opportunity for tutors to understand contextual factors that might inhibit a student from engaging and thriving at school. It is also through tutor time that students take part in 'Trinity LifeBites' activities, tutor worship, collective worship, year group assemblies and mentoring support. Mentoring is part of a range of tutor time activities and involves pairing younger students with older students, who act as role models.

The Trinity Passport is a programme of trips outside of school designed to build cultural capital. Several trips run each week (for example, paddle boarding, Chartwell House, Harry Potter World), which are targeted at small groups of around 12 to 14 students. It is widely accepted that a person's level of cultural capital is a huge indicator of how well they are able to succeed academically and engage in wider society (TES).

Leadership Pathways gives students across all year groups the opportunity to develop their leadership skills practically. Students on the programme lead various activities and initiatives with training given throughout.
Inclusive Entitlement and Special Educational Needs and Disabilities
We believe that all students, regardless of background, belief or ability are entitled to become effective communicators, through writing and speaking, as well as becoming numerically capable. All students are entitled to develop a deep understanding of scientific theory and practice. Students are entitled to a thorough understanding of the world and their place in it through the study of languages, humanities, literature, arts and religious education. Students are entitled to become confident in speaking and writing a modern foreign language (French or Spanish).
We believe that students should have full access to our rich curriculum; students with special educational needs and disabilities are fully included and experience academic success. This is central to the Trinity Way. Learning is sequenced to remove unnecessary challenges and ensure knowledge is carefully built upon prior learning. Teachers focus upon overcoming barriers to learning and, informed by our SENDCo and SEN team, ensure that all students can access the same curriculum as their peers.
Implementation
The implementation of our curriculum refers to how a body of knowledge or subject should be taught. We recognise that in each subject implementation is in part shaped by what is being taught. However, while each subject utilises approaches which are most effective for that subject, implementation at Trinity is underpinned by evidence-led principles. The acquisition and mastery of essential knowledge, underpinned by the appropriate application of skills, informs the curriculum design of each subject. Subject curricula are sequenced so that conceptual knowledge is developed incrementally and progressively within a wider conceptual framework. This shows our students how current learning fits into a wider arc of learning, giving each lesson a sense of perspective.
Teaching and Learning Framework
Teaching and learning at Trinity centres on a framework shared by all staff to ensure consistency in delivery across a broad and challenging curriculum. The framework is based on Rosenshine's principles of instruction and has been condensed into 7 key areas of practice illustrated in the diagram above. Each subject adapts these principles for the demands of their own subject. However, common features are embedded across all subject areas and age groups, for instance retrieval activities, appropriate sequencing of content, modelling of excellence and meaningful feedback. This is an important way Trinity ensures cognitive overload is minimalised, thereby ensuring the curriculum is accessible to all. Strong emphasis is also placed on the importance of developing strong long-term recall of the most important knowledge.
More information on the Teaching and Learning vision can be found under 'Teaching and Learning framework'.
Key Stage 3 (Years 7 - 9)
Our Key Stage 3 curriculum is studied over three years. Students study the full range of national curriculum subjects such as mathematics, English, science, modern languages, humanities, physical education, technology, the arts, computing, religious education, drama, PSHE/RSE and careers education. This provides an excellent foundation for both Key Stage 4 and the Sixth Form. A three-year Key Stage 3 allows teachers to explore content in more detail, giving students an improved grounding in each subject they study, and creates inquisitive and eager learners. It also allows students the opportunity to accumulate knowledge, behaviours, and skills to demonstrate and develop their cultural awareness. Students will study either French or Spanish, focusing on developing a command of one language. A small number of students may be supported in accessing other curriculum areas by not studying a language. Students finish Year 9 with knowledge and skills which prepare them for Key Stage 4 study as well as life beyond school.
Key Stage 4 (Years 10 and 11)
A broad academic curriculum is maintained for all students in Years 10 and 11. At GCSE most students will study the English Baccalaureate (EBacc) because we are ambitious for them. This curriculum recognises that students can pursue a wide range of rigorous academic subjects at GCSE. We believe that the cognitive development afforded by the study of the subjects included in the English Baccalaureate (English, mathematics, science, humanities, and languages) provides a useful framework for intellectual growth for students and is ideal preparation for post-16 study and any future career. Students begin to take responsibility for their own learning through guided choices of some GCSE courses, supporting their transition to post-16 study. Our normal expectation is that students will study GCSE courses in English literature, English language, mathematics, either history or geography, a modern language, three sciences and religious studies, with one further GCSE course from art, product design, food and nutrition, physical education, history, geography, computer science, drama and music.
Key Stage 5 (Years 12 and 13)
Post-16, students choose from a wide range of Advanced Level and Level 3 BTEC courses. They also have the opportunity to study the AQA Extended Project Qualification. Trinity's offer of traditional A Levels alongside Level 3 BTEC qualifications offers both a flexible yet challenging curriculum which enables our learners to access high quality higher education and employment after sixth form. Nationally A Levels remain the most widely recognised British Level 3 qualification; combined with the career-based knowledge required in BTEC Extended Certificates, students have an enviable range of L3 study options which ensure there is no limit to the university courses and employment routes that Trinity students can access.
Further curriculum information regarding each subject can be found under 'subject information'.