View Page Gallery
The Library
The library supports teaching across all departments at Trinity School and our aim is to encourage and nurture a love of reading in every child. We place value on every student regardless of ability in their journey as an individual reader, recommending books which will also positively challenge and extend their abilities in literacy and comprehension.
Whether students need to research for homework or choose a book to read for leisure, they are very welcome in the library. The Library Team are happy to assist students with any queries they may have.
Please refer to the Library code of conduct for the full list of expectations.
---
Library - Key Information
Library Team: Mrs Sullivan & Mrs Harris
Email: library@trinitysevenoaks.com
Opening Times:
Before School

8.30am - 8.45am

Breaktime

10.15am - 10.35am

Lunchtime

12.40pm - 1.20pm

Refer to timetable on library door for lunchtime access.

After School

3.30pm - 4.30pm (closed Tuesday)
Sometimes the library is closed for meetings, training, exams etc. Students should check the sign on the door before entering.
---
Monthly Newsletter. Refer to the library newsletter section for details.
Click on Trinity Book Matters for book related fun activities and literacy inspiration.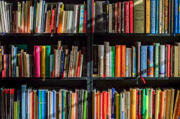 Book-a-Book, click and deliver service. Students are now able to borrow a book using Reading Cloud, our online library. Simply download the Reading Cloud iMLS Student app or visit Reading Cloud and access with a student school login. Students can choose and reserve their next read and the library managers will deliver the book during Form. For guidelines please click Reading Cloud Info For Students.
Sora, the

student reading app. Students can borrow eBooks and audiobooks by downloading the free Sora app or visit Sora, select Trinity School and sign up with their school login details. Sora can be used on all major devices and tablets (except kindles).You can also add your local public library to browse and checkout titles from their collection too.
Book Awards Book Club - Wednesday Lunchtimes. If any student would like to join the book awards club please email the library for details.

PageTurners Annual Themed Book Awards for teenagers and young adults. Over fifteen South East secondary schools participate. Each year a different theme for the awards is chosen and ten shortlisted books selected. The reading cycle starts in September and culminates in an awards gala evening where the winning titles are revealed live. This annual event takes place in March with guest authors and is hosted at Kent College, Pembury. For further details click here.
PageTurners Book Awards Club runs during the Autumn and Winter terms.

CILIP Yoto Carnegie Medal. Click here for details.
The Carnegie Book Club runs during the Summer Term.
Exciting activities take place for World Book Day in March click here and National Poetry Day in October click here
Book related competitions run every term. All entries receive a reward.
Library Newsletter
How the Library works
Find what you want to borrow.
Have your book issued and stamped at the issue desk (see the Library Manager).
Look after the books while you have them. Students may borrow 1 book at a time for up to 2 weeks.
Return on time via the returns cabinet outside the library (due date is stamped in the book) or see the Library Manager to renew.
---
Trinity Library charges a replacement book cost of £5 on any overdue, lost or damaged books. If a student cannot return something on time, please see the Library Manager who will be happy to renew it for free.
Students are reminded that most resources in the library are in some sort of order and need to be kept in the right place. Books taken off the shelf can be left on the returns trolley but borrowed resources must be returned to the issue desk, so they can be put back in the correct place.
KS3 students are unable to borrow KS4/Young Adult books unless they have written permission from their parents/carers. Please contact the Library Managers for further details.
Students are asked to follow the library rules (code of conduct) displayed in the library. Students will be asked to leave the library if they disrupt the work and pleasure of others.
Students who require assistance with finding a suitable book are asked to complete this Book Selector Questionnaire.
Library Induction
Resources
Computers
At the library managers' discretion students are permitted to use the computers in the library outside of lessons. They are for school work, research or homework - not for playing games.
---
Books
Books in the library are generally fiction/stories or non-fiction/information.
There is a main non-fiction section where most subject information books can be found. These books are arranged in number order. Each subject has its own 'class' or 'Dewey' number and these books are organised on the shelves by their class number ranging from 0 to 999.
Other non-fiction sections include a reference section with GCSE revision guides and specific subject information books, and a careers area to help students with decisions about their future when they leave Trinity. A selection of books are available to support and encourage students in our self help resources section. There is also a bi-monthly magazine entitled Teen Breathe for students to look through.
A selection of monthly subscription magazines are also available.
Fiction (story) books are arranged in author surname order. The main sections are: general fiction which includes a selection of dyslexia friendly books and young adult including sixth form fiction with recommendations from the English Department. Others include graphic novels, classic literature and Christian fiction.
Library Code of Conduct
PLEASE REMEMBER when you use the library:
| | |
| --- | --- |
| 1. | The books are in order so please keep them that way - books taken off the shelf can be left on the returns trolley but borrowed resources must be returned to the desk. |
| 2. | Food and drink should not be consumed in the library. |
| 3. | Sensible behaviour is expected. |
| 4. | Speaking quietly enables others to read or work. |
| 5. | Taking care with the furniture ensures a pleasant environment. |
| 6. | Books need careful handling, or they fall apart. Be careful with food and drink in your bag. |
| 7. | Politeness to staff and each other is expected. |
| 8. | Books need to be returned on time to enable other students to use them. |
Reading Lists
Click on the links below for a comprehensive list of suggested books across year groups 7 to 10.
The Interest Level indicates which age group a book is suitable for, based on the content and theme.
| Interest Level | Age (in years) |
| --- | --- |
| LY - Lower Years | 5-8 years |
| MY - Middle Years | 9-13 years |
| MY+ - Middle Years+ | 12+ years |
| UY - Upper Years | 14+ years |
Online Resources