View Page Gallery
Service
Each of you should look, not just to their own interests, but to the interests of others
Philippians 2:4
---
Understand and meet the needs of others, both in school and beyond
This means that, for example:
Students are outward looking
Students serve within school, in our local community and in the wider world.
Students learn to respect people in situations different to their own
Purpose Statement:
'For even the Son of Man did not come to be served, but to serve, and to give his life as a ransom for many'. Mark 10:45
The Trinity Service Programme exists to enable our school community to be a blessing and beacon of light to our local community and beyond. It seeks to develop students who look beyond themselves and to serve the needs of the wider world around them. The Trinity Service Programme is inspired by Jesus Christs' supreme example of sacrificial love by 'giving his life as a ransom for many'.
The objectives of the Trinity Service Programme are to:
Serve our local community through a range of local projects and partnerships.
Build links with local churches, and the wider community.
Develop a spirit of servant-heartedness within our students.
Serve where the need is.
Service in Action
'Each of you should look not only to your own interests but to the interests of others' Philippians 2:4
The Trinity Service Programme has evolved and grown throughout the season of Covid. Before Covid, students would serve within placements in the community, including care homes, primary schools and pre schools. The Trinity Service Programme now operates within the school, whilst continuing to serve the local community.
Students in Years 7 and 8 experience placements within the Trinity Food Bank; outside in the Growing Hope Garden where they learn about creation care and have an opportunity to be involved with local and global community projects such as care homes and Christmas shoe boxes. We aim for each child in Year 7 & 8 to complete four hours of service over the academic year.
Students have found this an enormously rewarding experience as they learn to look after the needs of others in practical and helpful ways. We have seen our students grow in confidence and self esteem as they have been given opportunities to serve in the wider community which, we believe, will have a positive impact upon society in the future.
---
Year 7 Lockdown Service Project
Service is at the heart of the Trinity ethos. The Year 7 students continued serving our local community during lockdown by blessing Lavender Fields Care Home with flowers, cards and delicious home-baked treats.
"Let each of you look not only to his own interests, but also to the interests of others." Philippians 2v4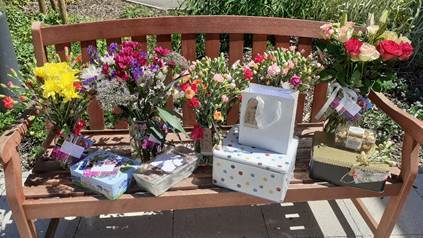 ---
Trinity Supports Samaritans Purse 'Operation Christmas Child'
In 2018, Trinity students put their 'faith into action' by supporting Operation Christmas Child. Each shoe box is filled with Christmas gift items and basic necessities and delivered to children around the world who would not otherwise receive anything. The Year 7 students created a 'human chain' as they passed their shoe boxes along the chain to the collection van! Last year, 41,000 boxes were sent from the West Kent Centre to a total of 9 countries including Ukraine, Belarus, Bosnia , Albania & Latvia. If any students used the bar codes with their boxes they will be able to track their boxes to where they have been delivered. Mr Smith's Class – 7PSM – won the 'Trinity Faith in Action Cup' this year for creating the largest number of shoeboxes. Well done!
---
What the Community Say
It has been a help to have them do things around the garden that the gardeners do not have time to do. The residents appreciate this and look forward to seeing the flowers in bloom
Care Home
---
Talking with the residents has gone down well. Pupils have reminded residents of their earlier life, which they have been happy to share
Care Home
---
Your students have been inspirational! I am learning a lot!
Primary School
---
Your students have been organised, good role models and well prepared. Thank you!
Primary School
---
Their hard work and diligence was particularly welcome.
Environmental project
---
EDUCATION FOR LIFE IN ALL ITS FULLNESS