Christian Union
'Let us not giving up meeting together, as some are in the habit of doing, but encouraging one another—and all the more as you see the Day approaching'. Hebrews 10:25
---
The Christian Union
Trinity School has five Christian Unions - Year 7, Year 8, Year 9, Year 10 and Years 11 to 13. Each meets weekly at lunchtime and is led by members of the Chaplaincy team and youth ministers from our local church partners. Throughout the Covid pandemic, each of the Christian unions operated within year group bubbles which enabled us to keep encouraging our students in faith during this challenging time.
What can students expect from the Christian Union? A chance to meet together, pray together, have fun and learn about journeying with Jesus through His word and prayer.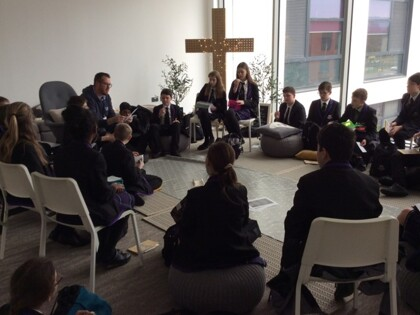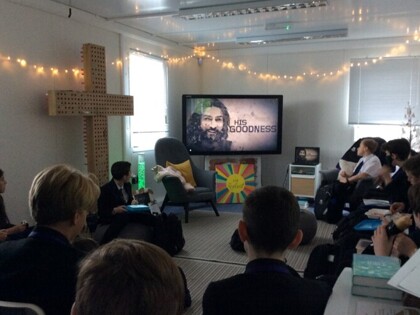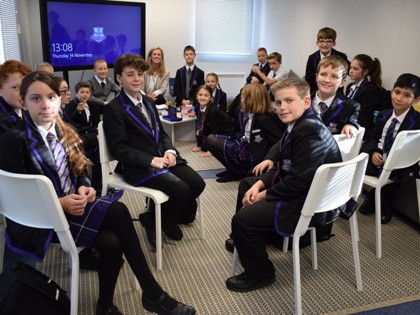 ---
Apologetics at Trinity
The Christian Union also has an 'Apologetics' branch that meets weekly and discusses big issues relating to the defence of the Christian faith. The Apologetics Team host lunchtime talks for the school including talks based upon 'How can a loving God allow suffering?' and 'Does God stop me from having fun?'. A mixed panel of guest speakers and students host these talks.
Our last Christian Union lunchtime event took place on Wednesday 4th December - where we invited Jeremy Marshall to come and talk to us about his latest book 'Beyond the Big C' which chronicles Jeremy's extraordinary relationship with cancer and, more than anything, his extraordinary relationship with the person who promises life beyond the prognosis. The essence of Jeremy's story was that despite the sickness and disease present in the world, a life lived in light of Christ's death on the cross, means there is hope for the future no matter what.
COVID-19 Update: Due to COVID-19 we have had to temporarily suspend the Apologetics group as it works across the year group bubbles. Apologetics based discussions are now included within the Christian Union groups.
---
Talk by Janet

Phythian
Our two Christian Union groups had the privilege of hearing from Janet Phythian in December 2019, who does an amazing work with Growing Hope, Mozambique which seeks to train and equip Pastors, churches and communities in the Farming God's Way Programme in Mozambique. It was really inspiring hearing how Christian communities are responding to the challenges of living in Mozambique after Cyclone Idai with the hope of the gospel, as well as providing food for the local community and orphans.
Our CU members presented Janet with a Book of Love made by our students for the 60 or so children at The Mountain of Praise Church Orphanage in Dondo, Mozambique.