View Page Gallery
Chaplaincy
The Chaplaincy Team
---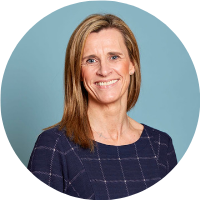 Anna Graham
Head of Chaplaincy
Anna joined Trinity in September 2018. Prior to being a School Chaplain, Anna has been involved in teaching children and young people about the Christian faith in school and in church for the previous 10 years. Prior to this she held a variety of managerial roles at various companies in the UK and Australia, including Marks and Spencer where she launched the 'Autograph' range; a National Account Manager at Mars Confectionery and National Account Manager for Fritolay, Australia. Anna is married with three children and loves the outdoors and sports, especially hockey. Anna relishes her calling as Chaplain where she loves to explain and express the gospel of God's grace to all the students and the whole school community.
---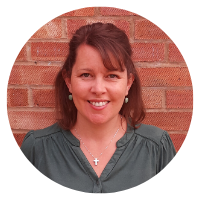 Helen Read
Assistant Chaplain
Helen and her family were missionaries in South Africa before returning to the UK. Since then she has been teaching the Bible in the local church in a variety of contexts, as well as studying on the Cornhill Training Course. Helen has a passion to see young people grow in faith through using their gifts and talents to serve others through the Trinity Service programme.
---
The Trinity Vision
At Trinity we believe that every young person is loved and valuable to God, and that He has given each one unique gifts and talents. Our vision is that every student will fulfil their God-given potential, ready to serve others and equipped to be confident leaders in society. The Christian message of hope and forgiveness is upheld throughout all aspects of Trinity school life through the pastoral care of all students, both in class and on the playground.
---
Trinity School Food Bank
We have been overwhelmed by the generosity of our school and local community towards our food bank, enabling us to bless 60 students from 46 families with weekly care parcels. Thank you! As this crisis continues this number is increasing so please do keep giving to our weekly collections.
If you are a member of the Trinity community and would benefit from receiving a food parcel during this time, please email Helen Read at hread@trinitysevenoaks.com and we will add you to the distribution list.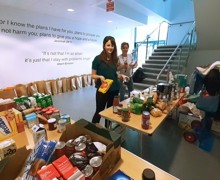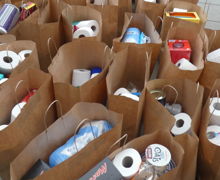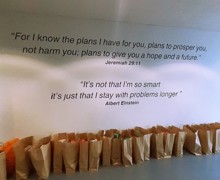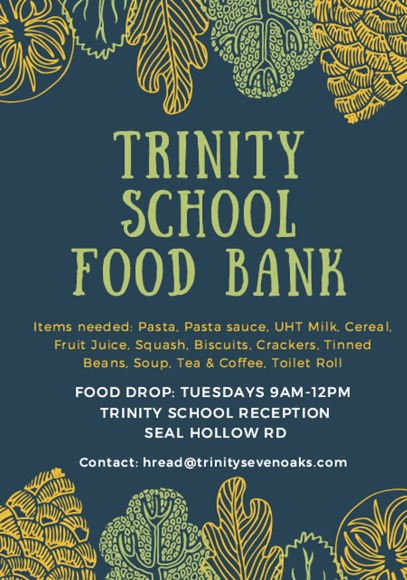 Watch our Foodbank interview with Claudia Lane
Helen Read, Assistant Chaplain, interviews Claudia Lane on how food from a Food Bank helped her and her family growing up.
---
Prayer Space 2020: Let the Light Shine!
Christian Worship
Formal Acts of Worship take place on a fortnightly basis with Years 7 & 8 meeting together; Year 11 and 6th Form gathering together and Years 9 & 10 gathering in the main hall. This is a time of reflection; reading the Bible: listening to a short talk and a time of intercessory prayer for the World. (Due to Covid these are currently being delivered through Form Time).
Form Worship takes place three mornings a week. This enables the students to explore and participate in acts of reflection and prayer as a class together. Each morning has a different focus:
'Daily Reflection' - Monday / Tuesday
'I lift up my eyes to the mountains, where does my help come from? My help comes from the LORD, the maker of heaven and earth' Psalm 121 1-2
Students have a short daily Bible reflection to encourage them at the start of the week. This is to inspire, equip and motivate them as they start their day as well as to strengthen their walk of faith.
'Wider World' & 'Faith in Action' - Wednesday / Thursday
'Faith by itself, if it is not accompanied by action, is dead' James 2:17
Students look at wider world issues and participate in praying for our world in need. Students explore the big issues affecting our world and how we can be the change they wish to see in the world. From 'caring for creation' to understanding about the persecuted church and equality to helping those living in poverty. Trinity aims to provide an environment where students are encouraged and supported to put their faith into action.
'Celebration Worship' - Friday
'I will praise the name of God with a song; I will magnify him with thanksgiving' psalm 69:30
This is an opportunity for our students to listen to a Worship song together in class and to celebrate God and one another.
Christian Union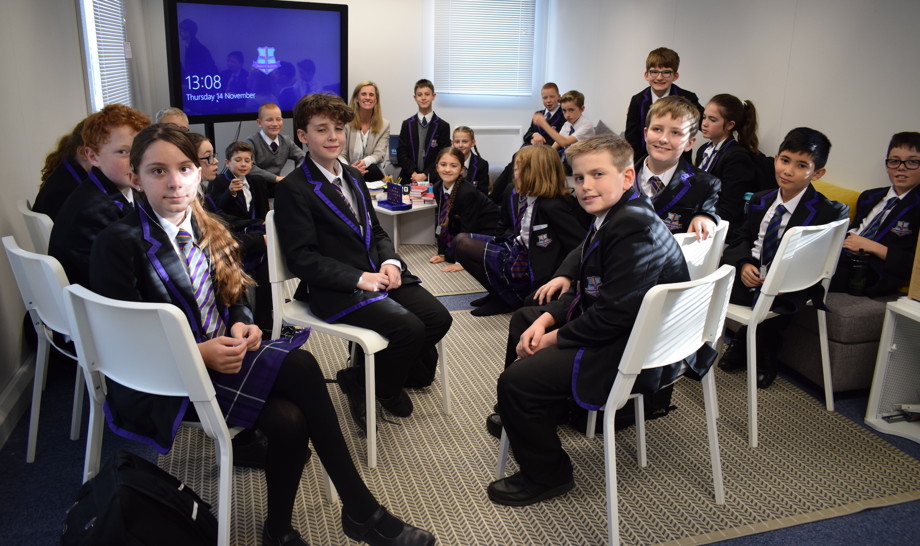 'Let us not giving up meeting together, as some are in the habit of doing, but encouraging one another—and all the more as you see the Day approaching'.
Hebrews 10:25
---
The Christian Union
At Trinity School we have two Christian Unions which meet weekly. Students from Years 10 - 13 meet every Tuesday and students in Years 7 - 9 meet every Thursday.
COVID-19 Update: Due to COVID-19 we are now running six Christian Union meetings within the year group bubbles. These take place each lunchtime.
These meetings encourage fellowship and friendship but above all we meet to learn more about Jesus from the Bible and to pray for one another and the wider world. We are also committed to put our faith into action and are supporting Samaritans Purse Operation Christmas Child this year.
The Christian Union also benefit from having 'special guests' - where we invite a Missionary to come along and to share how God has been at work in their lives and to understand how He is at work in and through them, through their mission work. We hope these visitors inspire and encourage our students to lives of faith.
---
Apolgetics at Trinity
The Christian Union also has an 'Apologetics' branch which meets weekly and discusses big issues relating to the defence of the Christian faith. The Apologetics Team host lunchtime talks for the school including talks based upon 'How can a loving God allow suffering?' and 'Does God stop me from having fun?'. A mixed panel of guest speakers and students host these talks.
Our last Christian Union lunchtime event took place on Wednesday 4th December - where we invited Jeremy Marshall to come and talk to us about his latest book 'Beyond the Big C' which chronicles Jeremy's extraordinary relationship with cancer and, more than anything, his extraordinary relationship with the person who promises life beyond the prognosis. The essence of Jeremy's story was that despite the sickness and disease present in the world, a life lived in light of Christ's death on the cross, means there is hope for the future no matter what.
COVID-19 Update: Due to COVID-19 we have had to temporarily suspend the Apologetics group as it works across the year group bubbles. Apologetics based discussions are now included within the Christian Union groups.
---
Talk by Janet Phythian
Our two Christian Union groups had the privilege of hearing from Janet Phythian in December 2019, who does an amazing work with Growing Hope, Mozambique which seeks to train and equip Pastors, churches and communities in the Farming God's Way Programme in Mozambique. It was really inspiring hearing how Christian communities are responding to the challenges of living in Mozambique after Cyclone Idai with the hope of the gospel, as well as providing food for the local community and orphans.
Our CU members presented Janet with a Book of Love made by our students for the 60 or so children at The Mountain of Praise Church Orphanage in Dondo, Mozambique.
Prayer
Trinity school was established and is maintained by the power of prayer. Trinity relies on the faithfulness of its prayer partners in the community: The Governors; SCET Ministers (Sevenoaks Churches Educational Trust) and church partners; the parent and staff body.
On the first Thursday of the month, Trinity has a Monthly Zoom Prayer Meeting to thank God for his provision and to pray for the needs of the school – all are welcome to join.
It is run from 9.30am - 10.15am and the dates for the remainder of the Academic Year 2020/21 are as follows:
Thursday 5th November 2020
Thursday 3rd December 2020
Thursday 4th February 2021
Thursday 4th March 2021
Thursday 6th May 2021
Thursday 1st July 2021
If you would like to receive our monthly prayer letter containing the zoom link for these meetings please email hread@trinitysevenoaks.com
The Staff Prayer Meeting takes place each Thursday and the Chaplain also meets on a termly basis with the SCET Ministers over breakfast to pray for the needs of the school.
Student involvement in prayer is reflected within Collective Worship, Form Worship and at the beginning of each class, a class ambassador opens the lesson with a short prayer.
Each year Trinity creates a 'Prayer Space' week which enables every student to participate, explore and experience the power of prayer in creative and innovative ways.
---
Parent and Teacher feedback following the Trinity Prayer Space (4-8 February 2019)
"I am sure it needs no mentioning, but I just want to say that the Prayer Space was incredible. I have seen many of them over the years, but that was by far the most well executed and thoughtful."
(Current parent)
---
"......they (the students) were totally immersed in it. I found the same with my Year 9 students when I took them down to the space as well."
(Teacher)
---
"......it was....incredible."
(Parent helper)
Service Programme
Jesus said 'For the son of man did not come to be served but to serve' (Mark 10:45).
Central to the Christian ethos of Trinity is that our students reflect God's love in our wider community. Each student participates in helping the community through a variety of partnerships. They visit and help local churches; mother and toddler groups; assist local primary schools and nursery schools as well as visit the Leonard Cheshire Disability Centre and Lavender Fields care home.
For more information, please visit our Service page:
Faith in School News
Student Artwork with Christian artist Sue Salter
This year some students got creative working with local Christian artist Sue Salter. Here are their pieces:
'The Holy Spirit'
'Where the Spirit of the Lord is , there is freedom' 2 Corinthians 3:17.
Students explored the character of the Holy spirit as counsellor, helper, friend, guide, comforter, bringer of truth. 'I am with you wherever you go'.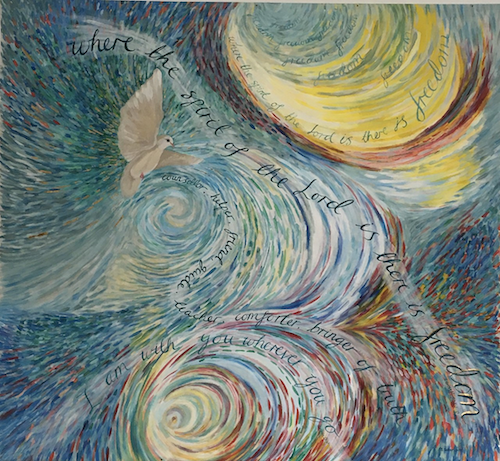 'Being Held'
Many of our students simply need to 'be held'. Students who created this piece learnt about the open arms of God.
Jesus 'took them in His arms' Mark 10:16.
'You are held. You are forgiven. You are enough. You are loved. You are never alone. You are accepted. You are wanted. You were always wanted'.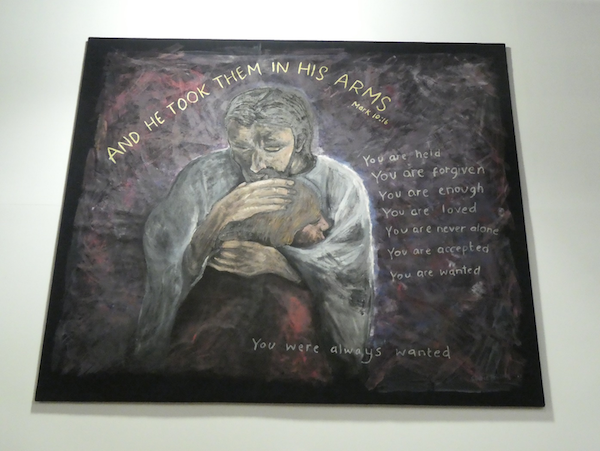 'You are the Light of the World'
This piece was created by all of the students throughout Trinity's Prayer Space week in February 2020.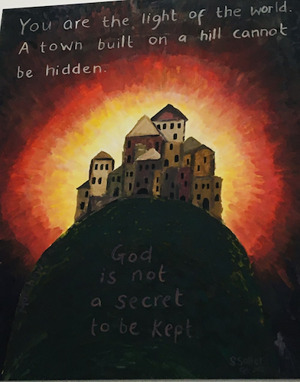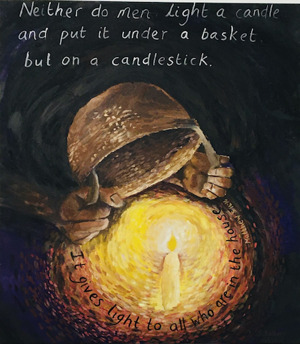 Another beautiful piece of artwork produced by our creative intervention students.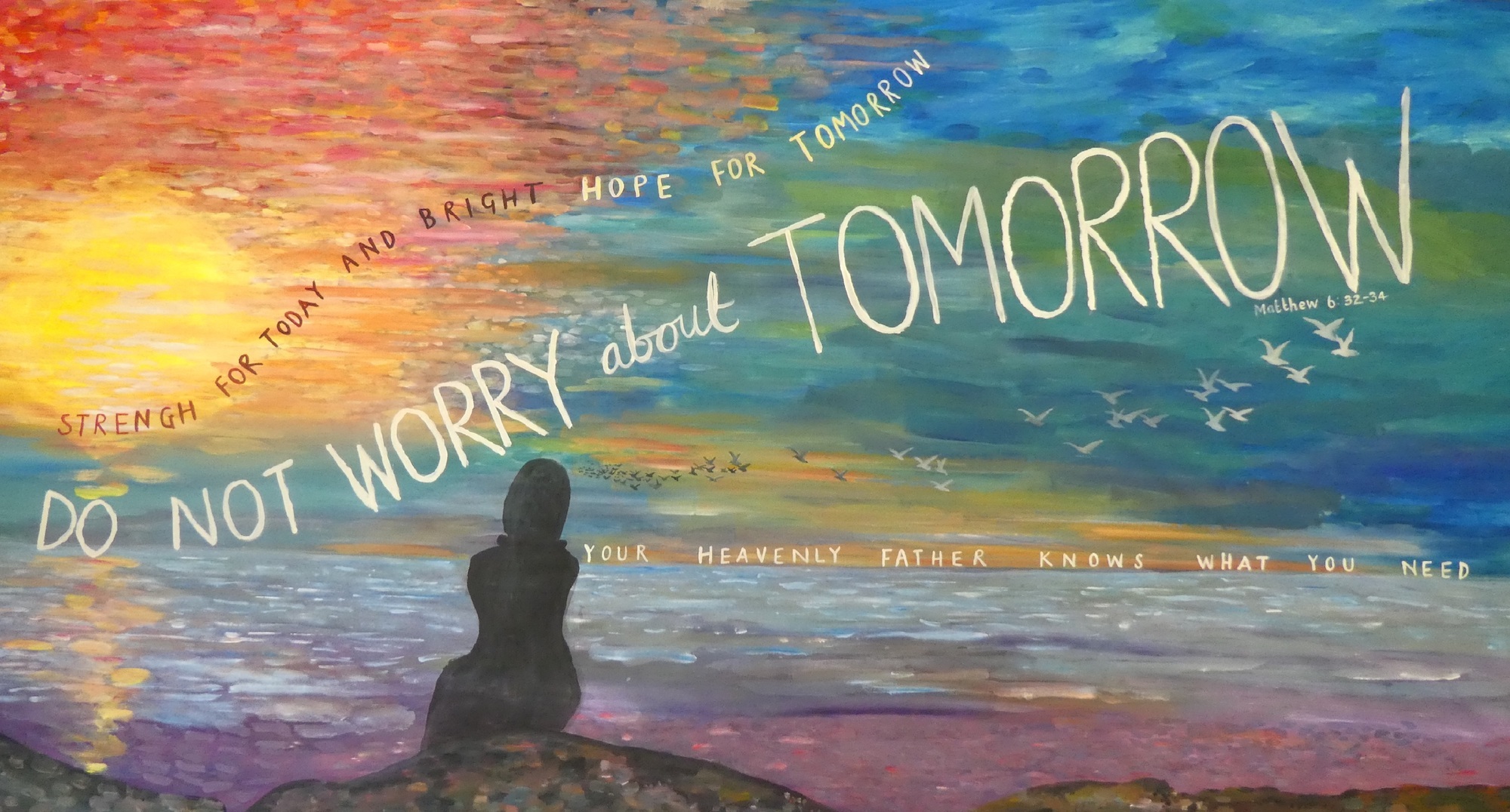 ---
Trinity's Christmas Foodbank Update, January 2020
'For I was hungry and you gave me something to eat, I was thirsty and you gave me something to drink....Truly I tell you, whatever you did for one of the least of these brothers and sisters of mine, you did for me.'
Matthew 25:35 &40
Within our Act of Worship we reflected upon what Jesus says about providing for those who are hungry. In December we were deeply touched by the generous donations we received for our Christmas food bank collection. In January we welcomed Andrew Junaid, who is the Director & Chair of Whitefoot & Downham Community Food Plus Project near Bromley to Trinity School. Andrew returned to Trinity to thank us on behalf of all those who received the food five days before Christmas. Andrew wished to pass this message on:
"The incredible generosity of the young people's donations to our foodbank has benefited 200 people and made their Christmas season of good cheer! We are so thankful that you were an answer to prayer for us in helping support people in our society who are unable to repay you, through your kindness and generosity to those who were in need. God bless you richly!"
Thank you so much for your support and kindness.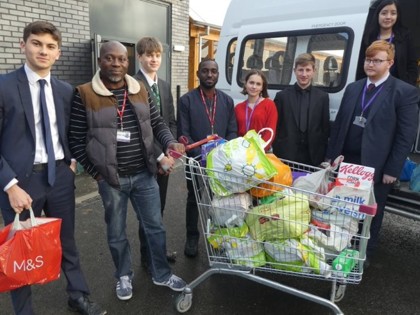 ---
Trinity's Remembrance Service 11 November 2019
'Greater love has no one than this: to lay down one's life for one's friends'
John 15:13
Rev. James Oakley, vicar of Kemsing and Chair of SCET, and the Year 12 History students led our Remembrance Service on Monday 11th November. The service commemorated all those who have fought in wars past and present for the liberty and freedom which we enjoy today. Trinity students demonstrated maturity, respect and reverence throughout the service. We will remember them.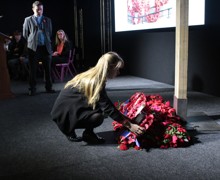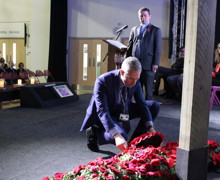 Please view our picture gallery at the end of the page.
---
'His banner over me is love' Student Art Work
Throughout the Prayer Space week, our students were involved in creating a banner reflecting the fact that they are unique and valued to God. The background to the banner reminds them of what God's love is like as described in 1 Corinthians 13:
'Love is patient, love is kind. It does not envy, it does not boast, it is not proud. It does not rude, it is not self seeking, it is not easily angered, it keeps no record of wrongs. Love does not delight in evil but rejoices with the truth. It always protects, always trusts, always hopes, always perseveres. Love never fails'.
This banner has been placed above the doors into the main assembly hall – so that every time the students go into Worship; sit their exams; perform drama productions or are seated at lunchtime they would be reminded of God's love. We are very thankful to Sue Salter, a parent and artist who volunteered her time and gifting in creating this piece painted by the students.
---
Christians in Sport' Visit to Trinity on 15th February 2019
We were thrilled and delighted to have a team from 'Christians in Sport' who visited Trinity on the last day of term 3.
They gave an assembly to all our students; hosted a sports quiz for our 6th Form and led inventive and creative sports lessons all day on the astroturf pitches. They also spent time in our RE lessons talking about what the Bible says about sport.
Our 6th formers were a credit to the school as they helped lead the games sessions alongside the 'Christians in Sport' team for the other classes. The 6th formers showed true 'servant heartedness' and upheld the true ethos of Trinity school by their example on and off the pitch.
---
Remembrance Service – 100th Anniversary of World War One.

'Greater love has no one than this than to lay down one's life for his friends'.
John 15:13
To mark the 100th Anniversary of the end of World War One every student was involved in writing prayers of thanks and remembrance to those that sacrificed their lives for our freedom today. Each form created a special poppy prayer wreath. Each Form Ambassador laid their wreaths at our special 100th Anniversary Remembrance service in November. Trinity will remember them.
---
Gideon's Visit Trinity
'Your word is a lamp to my feet and a light to my path'
Psalm 119:105
In September, we were delighted to welcome the Gideons to Trinity. Gideon's are an international organisation who distribute millions of Bibles around the world particularly to schools, hospitals and service men and women. We were very thankful to Mr Michael Richardson and Mr Derek Baxter for coming into school to share the work of the Gideons with us. The students were each given an opportunity to receive a copy of the New Testament. Page 2 of this 'pocket Bible' sets out a list of some of life's challenges, with cross references to verses in the Bible which deal with these. The Gideons encouraged the students to seek guidance and comfort from scripture with whatever challenge they may face.
---
Reggie Dabbs visits Trinity
'But you will receive power when the Holy Spirit comes on you; and you will be my witnesses in Jerusalem, and in all Judea and Samaria, and to the ends of the earth'
Acts 1:8
On Tuesday 2nd July we were delighted that Reggie Dabbs was able to visit Trinity to speak to all our students.
Reggie is an exceptionally gifted motivational speaker who travels the world and speaks to over 2 million children a year. He flew over to the UK from the USA for a week and travelled to many schools in London and the surrounding area. Reggie is gifted at sharing the love of God and the message of hope in a fun, engaging and musical way. He is a professional saxophonist and our students were in awe as he performed and they sang along heartily! Reggie even encouraged our students to stand up and dance - which many did!
Above all, Reggie shared his personal story of hope and an attitude of 'Never giving up' with the students. Reggie found out he was adopted at the age of 8 and struggled with his identity in the years that followed but shared His love of Jesus and how whatever storms hit in life - Jesus was his constant friend and companion.