News
Posted on: 14/07/2022
Co-Curricular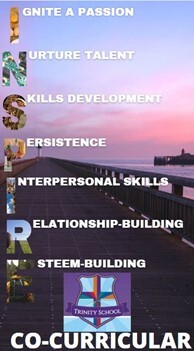 We are excited to launch our INSPIRE co-curricular programme for September which takes place on Wednesday afternoons during P6. We will run four cycles over the year, consisting of 9 weeks each. Thanks to an incredible staff body, determined to inspire our students, we have a fabulous range of activities including Arts Award, BBC Young Composer Competition, Forest School, Lego League, Alpha, Introduction to Psychology, Beginners Italian, Warhammer, Cross Country to name but a few! A full list will be published on our website in September. Year 12 students will be expected to help staff with the activities as part of their service programme.
We are looking for volunteers to further enhance our programme. We would love to include activities such as Self-Defence, Floristry, Finance, Theatre Makeup, Mechanic Skills and DIY Skills such as bricklaying, tiling, plastering. If you know of anyone who could commit to a 9 week cycle from 14.25-15.25pm, please contact our Director of Enrichment, Mrs Gale using dgale@trinitysevenoaks.com. We will help carry out the necessary DBS checks.
The Duke of Edinburgh Award will commence in cycle 2 and Heads of Departments will run interventions for invited Year 11 students over the year. Students are welcome to suggest more activities through their Student Council Representative and student surveys.