View Page Gallery
Duke of Edinburgh's Award
The Duke of Edinburgh's Award has helped countless young people on their sometimes difficult path to adulthood.
HRH The Duke of Edinburgh
---
We are so incredibly proud of all of the DofE students who have helped their community and improved themselves through completing their DofE activities.
This characterises the spirit of Trinity students, showing love by serving their community and excellence in self-development.
Thank you for all your hard work!
Mr Holvey
---
The Duke of Edinburgh's Award in the UK is internationally renowned as the world's leading youth achievement award, and is proud to be part of The Duke of Edinburgh's International Award Foundation, which drives and supports global growth.1
For the past seven decades, the Charity has inspired and transformed the lives of millions of young people from all walks of life. From volunteering to physical activities, life skills to expeditions, achieving a DofE Award is a passport to a brighter future, valued by employers and universities.1
1. (Information taken from the official DofE website. Correct as of Nov 2018).
What is the Duke of Edinburgh Award (DofE)
A life-changing experience. A fun time with friends. An opportunity to discover new interests and talents. A tool to develop essential skills for life and work. A recognised mark of achievement; respected by employers.
The DofE is many things to many people, supporting generations to successfully navigate adult life.
14-24 year-olds can do a DofE programme at one of three progressive levels which, when successfully completed, leads to a Bronze, Silver or Gold Duke of Edinburgh's Award.
There are four sections to complete at Bronze and Silver level and five at Gold. They involve helping the community/environment, becoming fitter, developing new skills, planning, training for and completing an expedition and, for Gold only, working with a team on a residential activity.
Any young person can do their DofE – regardless of ability, gender, background or location. Achieving an Award isn't a competition or about being first. It's all about setting personal challenges and pushing personal boundaries.
Through a DofE programme young people have fun, make friends, improve their self-esteem and build confidence. They gain essential skills and attributes for work and life such as resilience, problem-solving, team-working, communication and drive, enhancing CVs and university and job applications. Top employers recognise the work-ready skills Award holders bring to their business.2
2. (Information taken from the official DofE website. Correct as of Nov 2023).
---
Useful Information
Click here for the DofE Parents/Carers Information Booklet.
Activity Logs:Volunteering Section, Physical Section, Skills Section
---
"Thank you so much for the time given to the DofE Bronze students this weekend and the trial-run weekend! We are really pleased our daughter took on the challenge and despite being one of the slowest walkers (and possibly 'challenging' in her attitude!) we know she had a great time walking with her friends and camping! (…even in the rain!). We know that these experiences can't go ahead without the support of staff and we are very appreciative of the time you gave and ask if you could please extend our thanks to the other members of staff who helped out."
Year 10 parent
---
Previous Trips
Trinity DofE 2022-23
This year at Trinity School, we had over 100 students participating in the Duke of Edinburgh Award. This has included over 80 year 9 students engaged in the Bronze award, and 55 students participating in the Silver. Despite numerous challenges faced by the students, over two weekends they successfully navigated their way around Tunbridge Wells and the Ashdown Forest, demonstrating the key skills that they have acquired during their time at Trinity School. Even though some of the groups walked over 40km, they still managed to complete it due to fantastic resilience, humour, and teamwork. Well done everyone, this is a huge achievement. The DofE team are very proud of you, next stop … who knows?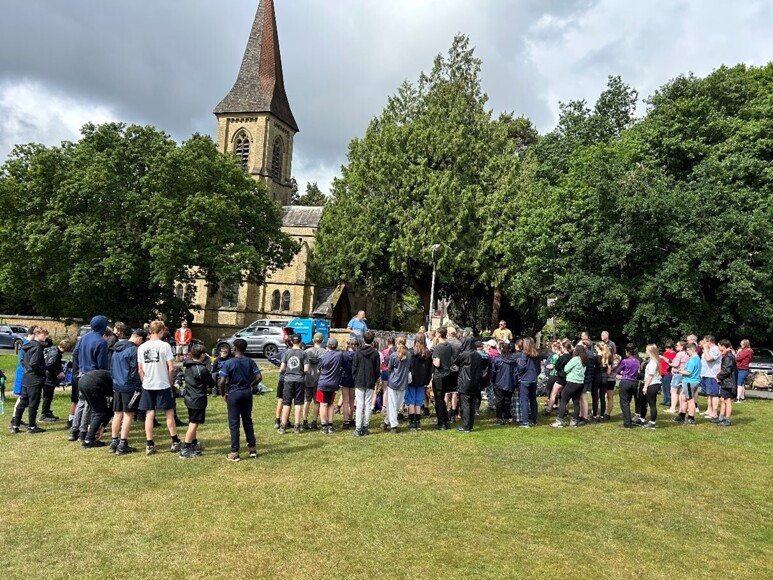 Duke of Edinburgh's Assessment: June 2019
On Saturday 8th June, 70 year 9 students set off from Southborough Common in search of Adamswell Campsite in Groombridge. The students were completing their DofE assessment weekend.
Luckily the weather held off and we were blessed with sunshine and mild temperatures throughout the weekend. It was amazing to see the students overcome various issues over the day and then gel as a group at the campsite. Although there were some tired legs and aching feet all of the students completed the assessment and arrived back at Southborough on the Sunday. The DofE team would also like to say a big thank you for all the positive comments from students and parents regarding the weekend.