News
Posted on: 01/04/2021
Forest School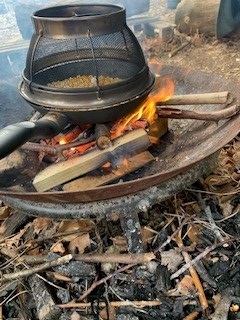 Forest School is a child-centred inspirational learning process, that offers opportunities for holistic growth through regular sessions. Its roots reach back to the open-air culture, friluftsliv, or free air life, seen as a way of life in Scandinavia where Forest School began.
Research from various sources shows that spending time outside in a natural environment has many benefits for students. Fresh air improves blood pressure and the activities planned will encourage students to move more and be active, which elevates endorphin levels, increasing mood. The exposure to the patterns in nature called fractals, the increase in oxygen and an increase in vitamin D from natural light can also have a positive impact on general wellbeing. Taking part in outdoor learning also helps to centre the mind while performing repetitive tasks such as planting or making things. This in turn allows the mind to have down time to recharge and increase creativity.
The ethos of forest school is to be student led where possible, so the activities will be chosen by the students. Examples of activities that students might take part in include fire building, cooking over a camp fire, and crafts using their natural environment.