News
Posted on: 12/05/2022
Tree Planting for the Platinum Jubilee
Dr Pawson, Janet Phythian and The Growing Hope Team 'Planting a tree for the Queen's Jubilee'.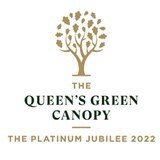 Trinity Growing Hope Team ' Plant a Tree for the Queen's Jubilee'!
The Queen's Green Canopy (QGC) is a unique tree planting initiative created to mark Her Majesty's Platinum Jubilee, which invites people from across the UK to 'plant a tree for the Jubilee'.
We are very thankful that we were able to plant two apple trees, which were kindly donated to the school at the front entrance of Trinity to celebrate the Queen's incredible service to our nation. Service is central to our ethos at Trinity and the Queen is a true example of putting the nations needs above her own.