Faith in School News
Student Artwork with Christian artist Sue Salter
This year some students got creative working with local Christian artist Sue Salter. Here are their pieces:
'The Holy Spirit'
'Where the Spirit of the Lord is , there is freedom' 2 Corinthians 3:17.
Students explored the character of the Holy spirit as counsellor, helper, friend, guide, comforter, bringer of truth. 'I am with you wherever you go'.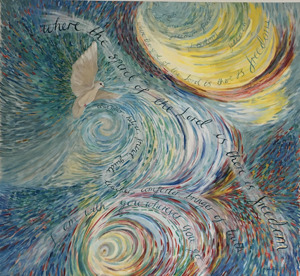 'Being Held'
Many of our students simply need to 'be held'. Students who created this piece learnt about the open arms of God.
Jesus 'took them in His arms' Mark 10:16.
'You are held. You are forgiven. You are enough. You are loved. You are never alone. You are accepted. You are wanted. You were always wanted'.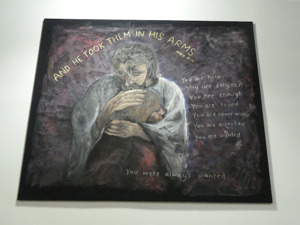 'You are the Light of the World'
This piece was created by all of the students throughout Trinity's Prayer Space week in February 2020.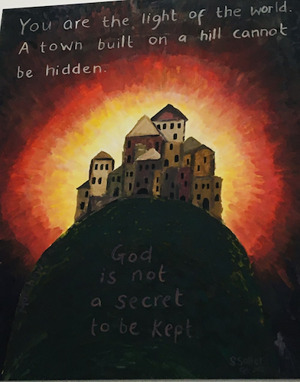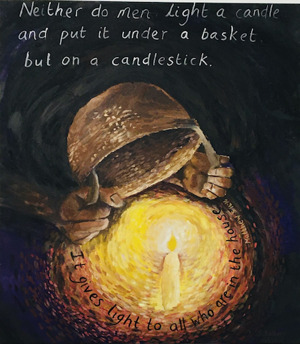 The Gospel piece
'For God so loved the world, He gave his one and only son, that whoever believes in Him, will not die but have eternal life'. John 3:16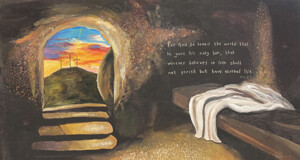 The Music Piece
'Next to the word of God the noble art of music is the greatest treasure in the world' Martin Luther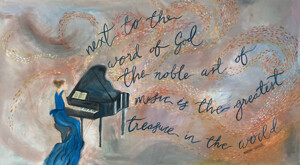 Counselling Tree
This tree has been placed in the counselling room for the benefit of our students.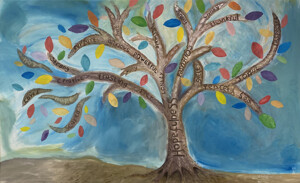 Another beautiful piece of artwork produced by our creative intervention students: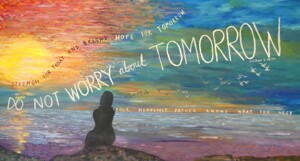 ---
Trinity's Christmas Foodbank Update, January 2020
'For I was hungry and you gave me something to eat, I was thirsty and you gave me something to drink....Truly I tell you, whatever you did for one of the least of these brothers and sisters of mine, you did for me.'
Matthew 25:35 &40
Within our Act of Worship we reflected upon what Jesus says about providing for those who are hungry. In December we were deeply touched by the generous donations we received for our Christmas food bank collection. In January we welcomed Andrew
Junaid
, who is the Director & Chair of
Whitefoot
&
Downham
Community Food Plus Project near Bromley to Trinity School. Andrew returned to Trinity to thank us on behalf of all those who received the food five days before Christmas. Andrew wished to pass this message on:
"The incredible generosity of the young people's donations to our foodbank has benefited 200 people and made their Christmas season of good cheer! We are so thankful that you were an answer to prayer for us in helping support people in our society who are unable to repay you, through your kindness and generosity to those who were in need. God bless you richly!"
Thank you so much for your support and kindness.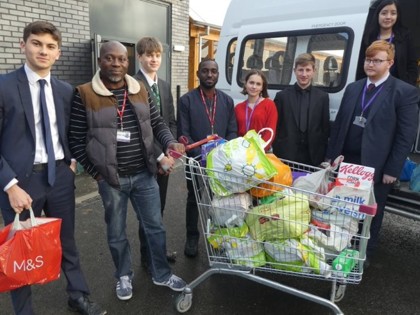 ---
Trinity's Remembrance Service 11 November 2019
'Greater love has no one than this: to lay down one's life for one's friends'
John 15:13
Rev. James Oakley, vicar of Kemsing and Chair of SCET, and the Year 12 History students led our Remembrance Service on Monday 11th November. The service commemorated all those who have fought in wars past and present for the liberty and freedom which we enjoy today. Trinity students demonstrated maturity, respect and reverence throughout the service. We will remember them.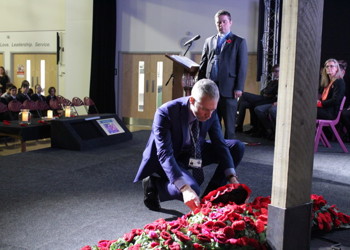 ---
'His banner over me is love' Student Art Work
Throughout the Prayer Space week, our students were involved in creating a banner reflecting the fact that they are unique and valued to God. The background to the banner reminds them of what God's love is like as described in 1 Corinthians 13:
'Love is patient, love is kind. It does not envy, it does not boast, it is not proud. It does not rude, it is not self seeking, it is not easily angered, it keeps no record of wrongs. Love does not delight in evil but rejoices with the truth. It always protects, always trusts, always hopes, always perseveres. Love never fails'.
This banner has been placed above the doors into the main assembly hall – so that every time the students go into Worship; sit their exams; perform drama productions or are seated at lunchtime they would be reminded of God's love. We are very thankful to Sue Salter, a parent and artist who volunteered her time and gifting in creating this piece painted by the students.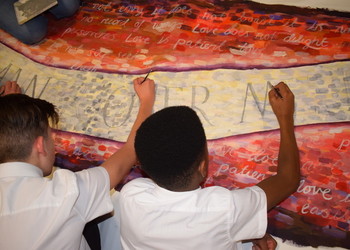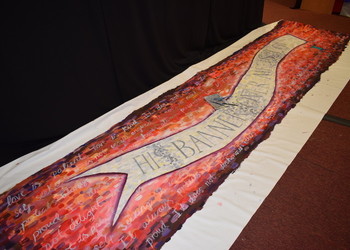 ---
Christians in Sport' Visit to Trinity on 15th February 2019
We were thrilled and delighted to have a team from 'Christians in Sport' who visited Trinity on the last day of term 3.
They gave an assembly to all our students; hosted a sports quiz for our 6th Form and led inventive and creative sports lessons all day on the astroturf pitches. They also spent time in our RE lessons talking about what the Bible says about sport.
Our 6th formers were a credit to the school as they helped lead the games sessions alongside the 'Christians in Sport' team for the other classes. The 6th formers showed true 'servant heartedness' and upheld the true ethos of Trinity school by their example on and off the pitch.
---
Remembrance Service – 100th Anniversary of World War One.

'Greater love has no one than this than to lay down one's life for his friends'.
John 15:13
To mark the 100th Anniversary of the end of World War One every student was involved in writing prayers of thanks and remembrance to those that sacrificed their lives for our freedom today. Each form created a special poppy prayer wreath. Each Form Ambassador laid their wreaths at our special 100th Anniversary Remembrance service in November. Trinity will remember them.
---
Gideon's Visit Trinity
'Your word is a lamp to my feet and a light to my path'
Psalm 119:105
In September, we were delighted to welcome the Gideons to Trinity. Gideon's are an international organisation who distribute millions of Bibles around the world particularly to schools, hospitals and service men and women. We were very thankful to Mr Michael Richardson and Mr Derek Baxter for coming into school to share the work of the Gideons with us. The students were each given an opportunity to receive a copy of the New Testament. Page 2 of this 'pocket Bible' sets out a list of some of life's challenges, with cross references to verses in the Bible which deal with these. The Gideons encouraged the students to seek guidance and comfort from scripture with whatever challenge they may face.
---
Reggie

Dabbs

visits Trinity
'But you will receive power when the Holy Spirit comes on you; and you will be my witnesses in Jerusalem, and in all Judea and Samaria, and to the ends of the earth'
Acts 1:8
On Tuesday 2nd July we were delighted that Reggie Dabbs was able to visit Trinity to speak to all our students.
Reggie is an exceptionally gifted motivational speaker who travels the world and speaks to over 2 million children a year. He flew over to the UK from the USA for a week and travelled to many schools in London and the surrounding area. Reggie is gifted at sharing the love of God and the message of hope in a fun, engaging and musical way. He is a professional saxophonist and our students were in awe as he performed and they sang along heartily! Reggie even encouraged our students to stand up and dance - which many did!
Above all, Reggie shared his personal story of hope and an attitude of 'Never giving up' with the students. Reggie found out he was adopted at the age of 8 and struggled with his identity in the years that followed but shared His love of Jesus and how whatever storms hit in life - Jesus was his constant friend and companion.